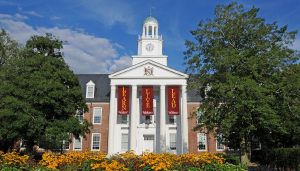 SALISBURY, MD—Salisbury University is celebrating the following recent faculty successes:
Dr. Keetha Soosaipillai, associate professor of conflict analysis and dispute resolution, recently published the book Post-War Delimmas of Sri Lanka: Democracy and Reconciliation from Routledge. Using Sri Lanka as a case study, the book examines whether democracy, compared to authoritariansim, is conducive to post-war reconciliation.
Dr. Chrys Egan, professor of communication arts, recently was published in the Journal of Leadership Studies. Her article, The Capacious Model and Leader Identity: An Integrative Framework, explores the Integrated Capacious Model of Leadership Identities Construction, a framework for understanding self-definition as a leader and the leader role as a central part of identity. Co-authors include Drs. Constance Campbell (Georgia Southern University), S. Lynn Shollen (Christopher Newport University) and Brionne G. Neilson (Southern Utah University).
For the fourth consecutive year, SU has been recognized as a Gold Campus through the American College of Sports Medicine's "Exercise is Medicine – On Campus" initiative. Dr. Lisa Marquette, associate professor of exercise science, will represent the University at the organization's annual meeting in Orlando, FL, in May.
Dr. Frank Shipper, professor emeritus of management and marketing, recently appeared on "The Cooperators" podcast (http://bit.ly/2UfYX3f​), discussing employee stock ownership plans and worker cooperatives. Host Robert McGarvey has written for The New York Times, Harvard Business Review and Fortune, among others.
For more information call 410-543-6030 or visit the SU website at www.salisbury.edu.