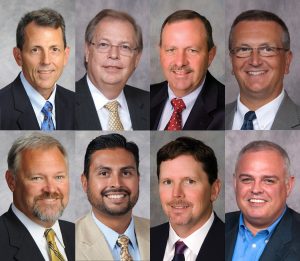 SALISBURY, MD—The Salisbury University Foundation, Inc. recently bid farewell to eight retiring members of its board of directors.
They included (first year of service in parentheses): Bob Moore (2006), Kevin Bernstein (2011), Robert Brosmer (2011), Rick Holloway (2011), Dwight "Duke" Marshall (2011), Tom Rosenthal (2011), Rafo Correa (2014) and Lee Trice (second term, 2017).
Though Moore will no longer serve on the active board, he will continue his affiliation with the organization in an honorary capacity with emeritus status. The accolade was announced during his final meeting in June.
"With more than 65 combined years on the board, these members have helped the University grow and flourish while also providing valuable scholarship and funding opportunities for its students, faculty and staff," said Jason Curtin, SU vice president of advancement and external affairs, and executive director of the Foundation.
"During their time on the board, SU's physical footprint has grown by more than 5 percent, with new campus buildings and facilities including Conway and Perdue halls, Sea Gull Square, the Richard A. Henson Medical Simulation Center, the Patricia R. Guerrieri Academic Commons, SU Downtown, the Wayne Street parking garage and a host of updated athletics facilities exemplified by Sea Gull Stadium.
"These additions would not have been possible without the hard work and dedication of these board members. We applaud their service and look forward to their continued support as esteemed members of the SU community."
Guided by a 28-member board, the SU Foundation was created in 1973 to accumulate funds by gift and investment to enhance the University. Since then, it has enriched the academic growth and physical expansion of SU through the support of student scholarships, faculty research, new facilities and community outreach.
For more information call 410-543-6030 or visit the SU website at www.salisbury.edu.