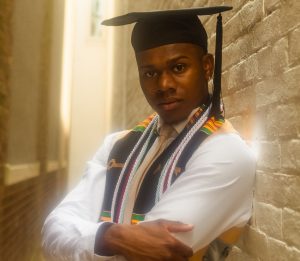 SALISBURY, MD—Salisbury University hosts its first virtual Fall Commencement 10:30 a.m. Saturday, December 19.
SU commemorates the successes of over 2,200 spring and fall graduates from the Class of 2020 during two virtual ceremonies. Spring and fall in-person ceremonies were canceled due to statewide restrictions to help slow the spread of COVID-19. All 2020 graduates will be invited to attend a future ceremony once safe to gather in person again.
Undergraduate and graduate ceremonies will include slides of each graduate's name, degree and honors with a submitted photo and message. Links to each ceremony will be available for viewing on the SU website www.salisbury.edu/commencement,YouTube channel www.youtube.com/user/salisburyuniversity and Facebook page www.facebook.com/SalisburyU/.
Campus community members, family and friends can submit their well wishes on the 2020 SU graduate Kudoboard www.kudoboard.com/boards/salisbury-university-graduation-2020, which will feature messages throughout December. Messages already submitted for May graduates will remain on the board.
Similar to spring, each fall graduate also will receive a "The Best is Yet to Come" celebration box at their home address the week before Commencement.
During the ceremony, the SU Alumni Association presents its annual Faculty Appreciation Awards. This year's recipients are Drs. Scott Mazzetti (Applied Health and Physiology) of the College of Health and Human Services, Michael Lewis (Environmental Studies) of the Charles R. and Martha N. Fulton School of Liberal Arts, Sophie Wang (Computer Science) of the Richard A. Henson School of Science and Technology, Ron Siers, Jr., (Secondary and Physical Education) of the Samuel W. and Marilyn C. Seidel School of Education and Leonard Arvi (Economics and Finance) of the Franklin P. Perdue School of Business.
The Commencement speaker is Jeremiah Copeland of Salisbury, who received a B.A. in music and B.A. in theatre last spring.
Copeland is no stranger to the SU community. He has sung for and on behalf of SU in over 200 performances during his undergraduate career.
They include Bobbi Biron Theatre Program productions of A Midsummer Night's Dream, Jesus Christ Superstar and Hairspray, the SU Chorale's presentation of Carmina Burana, the "We Are SU: The Campaign for Salisbury University" launch celebration, SU President Charles Wight's inauguration, a dedication of statues of Eastern Shore abolitionists Harriet Tubman and Frederick Douglass at the Maryland State House, and multiple Commencement ceremonies and National Association of Teachers of Singing (NATS) Student Auditions.
"It was a surprising honor to be selected to represent all 2020 graduates in a virtual commencement," he said. "There is not a lot of representation from the Black community in the performing arts, so to be able to represent theatre and music students and the entire Fulton School of Liberal Arts means a great deal."
Copeland's speech, including some vocal performance, highlights his journey to SU, faculty mentors, his commitment to SU's ongoing diversity and inclusion efforts, national issues, and the struggles and perseverance of 2020 graduates through the COVID-19 pandemic.
"I've experienced so much throughout my time at SU," he said. "From unexpectedly adding a theatre degree to my originally planned music degree, working through performances when sick and learning when to take a break, participating in so many amazing performances, and encouragement and support from Dr. John Wesley-Wright, Mr. Robert Smith and Dr. Matt Saltzberg in the Music, Theatre and Dance Department, to closing out my senior year submitting virtual performances and winning a national voice competition despite the hurdles."
His accolades include a NATS first prize in the Upper College Men's Musical Theatre category and being named runner-up in the Irene Ryan Acting Scholarship competition, as well as earning a Voice and Speech Trainers Association Vocal Excellence Award during the Kennedy Center American College Theatre Region II Festival.
 "I don't think I would have learned the skills I have and done all the things I did if I attended another university," he said. "SU equipped me with everything I needed to succeed."
Copeland plans to pursue a career in all aspects of the performing arts including Broadway, film and producing after completing Boston Conservatory at Berklee's M.F.A. program in musical theater vocal pedagogy.
Among undergraduates, 1,856 students receive the Bachelor of Science and Bachelor of Arts. Some 337 receive master's degrees. 10 receive doctoral degrees.
For more information visit the SU commencement website at www.salisbury.edu/commencement.