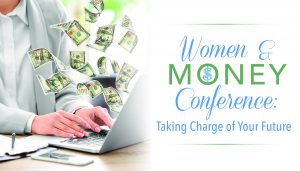 SALISBURY, MD—Salisbury University's Center for Extended and Lifelong Learning (CELL) hosts the conference "Women and Money" 9 a.m.-3 p.m. Wednesday, January 15, in Perdue Hall.
$15 discount is available for those signing up with others, as they register together.
The event offers women of diverse ages and circumstances an opportunity to learn the necessary information to take control of their financial lives. The conference includes breakout sessions, networking opportunities, and discussions with financial and career experts, as well as two presentations.
Angela Heath, Gig Income Guru at TKC Inc., delivers the morning keynote address, "Your Remarkable Money Story." Heath is a lifelong proponent for helping individuals earn more, save more and invest more. She has empowered women across the country to change their money story and create wealthy habits.
Dr. Heidi Anderson, President of the University of Maryland Eastern Shore (UMES), is the afternoon speaker with "A Conversation About Women and Money." Anderson earned her Ph. D. in pharmacy administration from Purdue University.
Attendees will have a chance to attend two breakout sessions from the following topics:
• "Invest in Your Future" with Jessica Eisemann
• "Estate Planning in the 21st Century" with Gina Shaffer
• "Discovering What's Possible Between You and Money" with Kathy Kiernan
• "Planning for Retirement: Fact vs Fiction 2020" with Gigi LeKites
• "The Positive Behavior of Budgeting" with Ryan Kirby and Chris Hayes
• "Having Difficult Conversations with Family Members" with Allessia Owens-King
• "Let the Gig Begin: Starting Your Gig Business" with Angela Heath
• "The Value of Living Your Values" with Annette Johnson
AARP Maryland is the event's Gold Sponsor, while local non-profits United Way of the Lower Eastern Shore, Junior Achievement of the Eastern Shore, the city of Salisbury, Business Economic and Community Outreach Network (BEACON), Maryland Capital Enterprises, Salisbury Area Chamber of Commerce, University System of Maryland Women's Forum, Community Foundation of the Eastern Shore, Salisbury University Women's Fourm and Power Lunch with Professional Women of Salisbury have endorsed the event.
The cost is $100; $85 for University System of Maryland and SU alumnae, staff and faculty; $35 for students. To receive the discount, signing up with a friend, enter the promo code FRIEND at check out. Lunch is included. Marketed to women, all are welcome to attend.
To register, or for more information, call 410-543-6090 or visit www.salisbury.edu/womenandmoney.