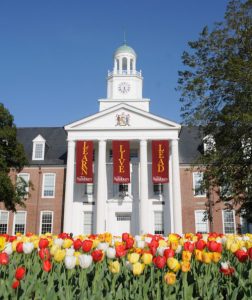 SALISBURY, MD – Salisbury University has joined the COVID-19 College Vaccination Challenge, a national advocacy program sponsored by the White House and U.S. Department of Education.
As one of nine participating Maryland campuses, SU has pledged to provide University community members with information on COVID-19 vaccine eligibility and access, implement a vaccination plan and coordinate on-campus vaccination opportunities.
"The COVID-19 pandemic has impacted all of our students, employees and stakeholders in some way, and science has shown us that vaccinations are our best chance of returning to normalcy," said SU President Charles Wight. "We are proud to join the White House and USDE in this initiative."
Since April, in partnership with the Wicomico County Health Department, SU has hosted two on-campus vaccination clinics for students, faculty and staff. A third, scheduled later this month, also will be open to adult family members of SU employees.
In addition, the University has provided campus community members with a number of resources for off-campus vaccination availability through programs offered by the county health department and Maryland Department of Health.
During the spring semester, the University System of Maryland (USM) announced that students and employees at all USM campuses, including SU, will need to be fully vaccinated before the beginning of the fall semester, in late August. Those at SU who follow that requirement will be placed on a less frequent COVID-19 testing schedule to maintain campus access.
Those who do not, through exemption or other means, will be required to test twice weekly through the end of 2021. If exposed or testing positive, they also will need to undergo a period of isolation or quarantine to better prevent the spread of the virus on campus.
Upon its launch, SU was one of 263 colleges and universities from 45 states and Washington, D.C., participating in the COVID-19 College Vaccination Challenge, and one of only four USM campuses. A full list is available at https://www.whitehouse.gov/COVIDCollegeChallenge.
For more information call 410-543-6030 or visit the SU website at www.salisbury.edu.