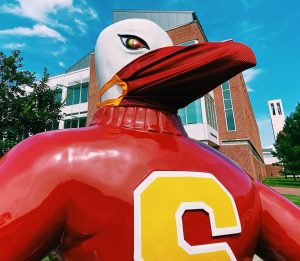 SALISBURY, MD—To those who see his visage regularly, Salisbury University's Sammy the Sea Gull is a part of normal life on the Lower Eastern Shore
For those unfamiliar with the SU mascot, however, discovering the tall anthropomorphic bird in a maroon varsity sweater can come as a happy surprise.
National news and entertainment website Our Community News.com agrees, recently naming the campus' Sammy statue among 11 of "Maryland's Quirkiest Roadside Attractions."
"Salisbury University's mascot, Sammy the Sea Gull, shows off his school spirit in a varsity sweater," the article's author, Sandy Allen, wrote. "The 7-foot-tall seagull currently sports a face (or should that be 'beak'?) mask to comply with social distancing."
Joining Sammy on the list are other Eastern Shore staples, including the Frontier Town western-themed amusement park in Berlin, MD, and the 10-foot fiberglass statue of a chicken in formalwear promoting Dayton's Fried Chicken at The Dough Roller restaurant on the Ocean City, MD, boardwalk.
Rounding out the list are a roadside "rocket" at Red House Antiques in Oakland, MD; a longstanding Noah's ark reconstruction project in Frostburg, MD; the Paw Paw former railroad tunnel in Oldtown, MD; the Roads and Rails Museum in Frederick, MD; a recreation of Van Gogh's "Starry Night" in doorknobs and plumbing fixtures at Union Hardware in Bethesda, MD; J. Seward Johnson's "The Awakening" sculpture at National Harbor in Oxon Hill, MD; and The Horse You Came In On Saloon (where author Edgar Allan Poe allegedly had his last drink) and unique tombstone of Ouija Board inventor Elijah Jefferson Bond, both in Baltimore.
The full article is available at https://ourcommunitynow.com/travel/11-of-marylands-quirkiest-roadside-attractions-for-the-road-tripper-in-all-of-us.
For more information call 410-543-6030 or visit the SU website at www.salisbury.edu.