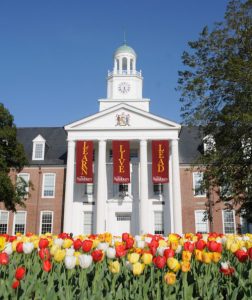 SALISBURY, MD—For the past quarter-century, Salisbury University's AmeriCorps programs have helped schools, organizations and residents throughout the Eastern Shore.
Now, SU is helping AmeriCorps members seeking to apply to the University.
SU recently was designated a School of National Service, providing in-state tuition rates, deferred admission and recognition of AmeriCorps status in the admissions process to all AmeriCorps members and alumni.
"Civic engagement is one pillar of an SU education, and AmeriCorps embodies the commitment to service we strive to instill in our students," said SU President Charles Wight. "We are thrilled to be able to offer these additional educational benefits not only to members of SU's AmeriCorps programs, but to members and alumni serving their communities nationwide."
"Being designated a School of National Service is a great honor and an ideal way for SU to continue and expand its AmeriCorps partnership," said Dr. Dane Foust, SU vice president of student affairs. "We want AmeriCorps members and alumni to know there is a place for them on our campus."
"Along with a strong AmeriCorps program and joining the School of National Service listing, it is clear SU understands and values a civically engaged, mission-driven student," said Nicki Fiocco, director of the Governor's Office on Service and Volunteerism, which oversees AmeriCorps Maryland. "We appreciate our partnership with Salisbury."
Since 1995, SU has been the home of ShoreCorps, an AmeriCorps program working to strengthen the capacity of community organizations and improve the lives of vulnerable populations by partnering with schools and organizations to address critical educational, recreational, social and cultural needs.
In 2017, SU added a second AmeriCorps program, HOPECorps (Heroin and Opioid Prevention and Education), to address the growing opioid epidemic on the Eastern Shore and throughout Maryland.
For more information about enrollment benefits offered through SU's designation as a School of National Service, visit www.nationalservice.gov/programs/americorps/segal-americorps-education-award/matching-institutions/Salisbury-University.
For more information about SU's AmeriCorps programs, visit www.salisbury.edu/administration/americorps.