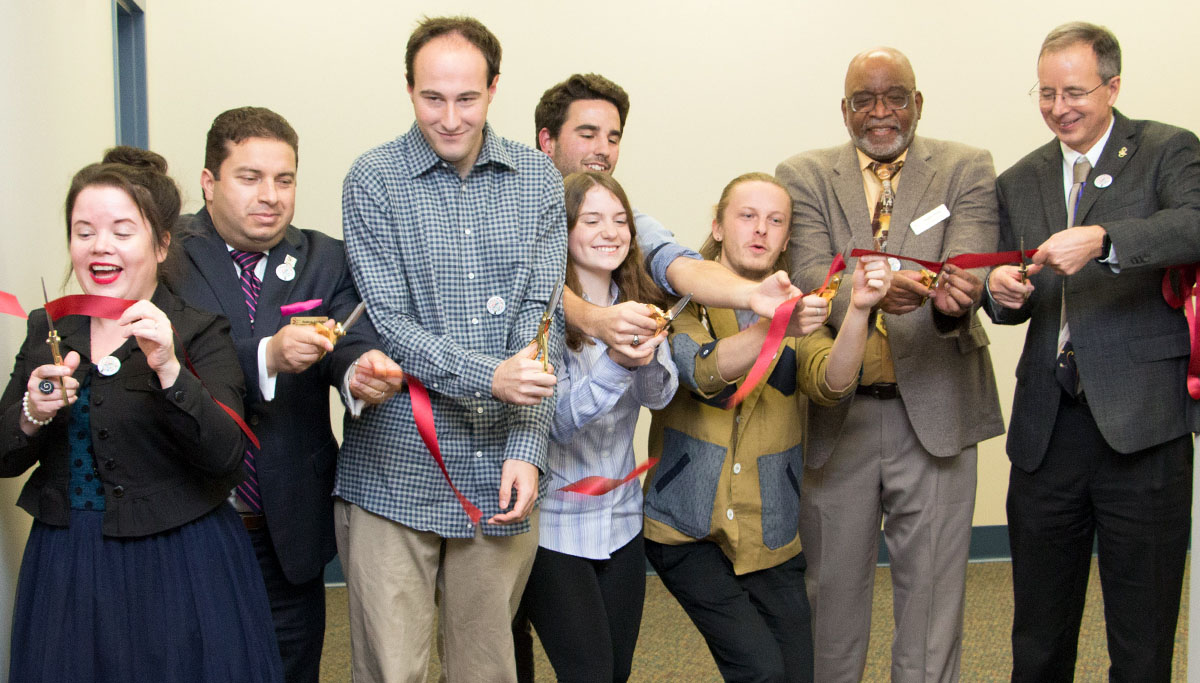 Salisbury University cut the ribbon Wednesday, December 5, on a new center for historically marginalized populations which will provide space for research, programming or just hanging out. Organizers hope it will help nurture a more robust sense of identity and community.
The first occupants of the Center for Equity, Justice and Inclusion (CEJI), housed in Blackwell Hall (the former campus library) represent three diverse communities: LGBTQIA+, the Women's Forum and disAbility (sic).
"The center is a work in progress," said Vaughn White, director of Multicultural Student Services, which will oversee its daily operation. Each of the three will have its own office and share access to a board room and a larger meeting room holding up to 75. As the center continues to develop, other groups are expected to join.
"This space is part of a larger commitment by Salisbury University to build a culture of inclusion in which all people are treated equitably and share a strong sense of belonging," said SU President Charles Wight. "The Center will provide support for under resourced communities, benefitting students, faculty and staff, and helping all of us to lead in an increasingly diverse world."
"LGBTQIA+ students spearheaded its creation and were the first group to submit a formal proposal," said Humberto Aristizabal, associate vice president of institutional equity. That led to greater conversations on campus with key stakeholders and committees about a more inclusive, umbrella-like space that honored the identities of several historically marginalized populations."
"The LGBTQ+ community has had a long standing history of being pushed to the edge of society, which usually results in erasure of LGBTQ+ identities and stories," said Thomas M. Mannion III, president of the Sexuality and Gender Awareness student organization. "To have a physical space dedicated to queer individuals on campus shows the SU community that queer people are a part of Salisbury, that we belong here."
The new disAbility Center is spearheaded by Delta Alpha Pi (DAP) International Honor Society "which honors academically successful students with disabilities. We want to build a strong community around disability and provide resources and educational opportunities," said Mollie Jewell, DAP president. "Delta Alpha Pi created a mentorship program that pairs DAP members with students with disabilities to assist them with the transition into college. As peers, we understand what having a disability means ….
"We definitely plan on collaborating with other CEJI users because people typically have more than one self-identity. There are women, LGBTQIA+, veterans and so many others who also identify themselves as 'disabled.'"
Although the SU Women's Forum has been in existence for three years, CEJI will be its first home, said Dr. Elsie Walker, faculty chair. "The new Women's Center is a place for everyone who cares about gender equity, gender politics, all-embracing human rights, family life and culture, balancing academic and personal lives, and female identities broadly understood.
"People visiting our space will find examples of learning opportunities (such as syllabi), scholarly resources (including articles by SU faculty), campus community initiatives (like support groups for parents) and inspiring artwork created by SU female faculty and students. We will be a 'one-stop-shop' for finding out about SU initiatives that champion and protect women's rights for a new generation of scholars and professionals."
Aristizabal said there are similar centers and identity-based spaces at other University System of Maryland campuses. "This is a good to have for a campus of our size," added White.
"We're confident the folks occupying these spaces are going to interact with each other and the campus in new and innovative ways that are sure to transform the landscape of SU for the better," said Aristizabal.
One new addition to the campus landscape came during the reception and open house after the ribbon cutting. Guests added their handprints, dipped into colorful paint, to a wall-sized, mural-like tree representing campus diversity.
For more information on the center, including hours, call Multicultural Student Services at 410-548-4503 or the Office of Institutional Equity at 410-543-6426.