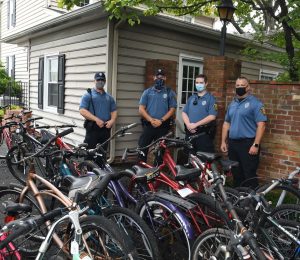 SALISBURY, MD—The Salisbury University Police Department (SUPD) recently turned a COVID-19 challenge into a positive outcome for the local community.
The department recently partnered with Wicomico County Public Schools (WCPS) and the SHOP (Students Helping Others Peddle) bike program to donate over 40 bikes to the cause.
In light of COVID-19 restrictions, the department's annual auction of unclaimed property, consisting of abandoned bikes, jewelry and other items found on campus throughout the academic year, was canceled.
"We receive positive feedback from our auction every year, and while it was disappointing to cancel, we knew we would have to get creative to find a new home for all the collected bikes," said Lt. Chris Shockley, SUPD special operations commander. "This is an ideal collaboration that gives the bikes a dual purpose, first to a local school program and then to the surrounding community later."
The SHOP program teaches students how to repair and refurbish bicycles in exchange for academic credits. Once complete, the bikes are donated to community organizations. Participants include Wicomico Evening High School and Summer Youth Employment Program students.
"We are so appreciative of the donation that will allow students to engage in hands-on learning as well as benefit others in the community from the refurbished bikes," said Dave Harner, WCPS supervisor of special programs.
For more information call 410-543-6030 or visit the SU website at www.salisbury.edu.