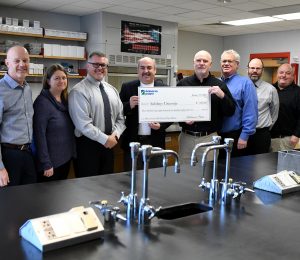 SALISBURY, MD—At Salisbury University, saving energy means saving money.
SU recently exceeded $1 million in payments through the Delmarva Power Energy Savings for Business Program with the optimization of laboratory ventilation systems in Henson Science Hall. The project, through which fume hood and exhaust valve controllers were replaced and airflow rates were adjusted to better meet current standards, netted the University $368,280 from the program.
And the savings are expected to continue.
"In addition to the incentive payment from Delmarva Power, SU expects to see a reduction in yearly electric consumption, as well as a yearly reduction in natural gas consumption," said Kevin Mann, director of the University's physical plant. "Combined, this will be equivalent to the electricity usage in approximately 270 homes for one year, resulting in an annual energy cost savings of nearly $200,000."
Partnering with SU for the project were Whiting Turner Contracting Co. of Salisbury as construction manager and Mueller Associates of Linthicum Heights, MD, as design engineer, as well as Pritchett Controls of Salisbury; ICF International of Rockville, MD; and Metropolitan Equipment Group of Beltsville, MD.
For more information call 410-543-6030 or visit the SU website at www.salisbury.edu.