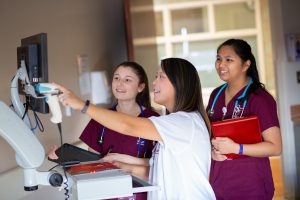 SALISBURY, MD—Salisbury University's School of Nursing has launched LeadNursingForward.org, a new initiative to address Maryland's nursing faculty shortage.
Funded by a grant from the Maryland Higher Education Commission's (MHEC's) Nurse Support Program II, the project aims to increase awareness about the ongoing shortage, provide strategies and tips on becoming a nurse educator, serve as a resource for accurate information about educational advancement, and promote nurse education careers.
An SU team, in collaboration with the University of Maryland School of Nursing, created the website as a free online resource for visitors to learn more about the nurse faculty shortage and be part of the solution.
Drs. Lisa Seldomridge, professor of nursing and director of SU's Richard A. Henson Medical Simulation Center, and Judith Jarosinski, associate professor of nursing, are leading the effort. Dr. Kayna Freda, assistant professor of nursing and the school's clinical coordinator, is the brand and marketing liaison, while Abigail Johnson provides administrative support. A team from SU's Eastern Shore Regional GIS Cooperative (ESRGC), including Erin Silva, Brett Dobelstein and Timothy Lanzi, also has assisted.
Using the website, nurses interested in advancing their education with the ultimate goal of becoming educators can find information on valuable resources such as grants, scholarships and tuition reimbursements to help defray costs. Additionally, nurses will be able to view the colleges in their geographic area and the educational programs they offer.  The site also features an interactive "Explore Your Own Adventure" Career and Educational Pathways section with different educator positions and maps displaying the locations and links for Maryland nursing programs, hospitals and health care organizations.
The site already is beginning to make an impact on nurse leaders in the state.
"LeadNursingForward.org is an important website to assist Maryland colleges and universities with easily connecting with individuals who aspire to teach in nursing," said Dr. Jeffrey Willey, director of SU's School of Nursing. "It is a one-stop shop that enables the user to ascertain what positions are open, and how to get the necessary education for the various positions. It also educates searchers about degree options and which ones best match the positions they seek. This site allows individuals seeking higher education and/or teaching positions in Maryland to easily determine the best degree and position for them."
Dr. Judith Stetson, professor of nursing at Chesapeake College, added:  "The website is a creative and valuable tool to promote every aspect of nursing education in Maryland. The site showcases our nursing programs, highlights the important work of our nursing faculty and encourages excellent nurse practitioners to consider nursing education as a career pathway. It's the 'go-to' for all things nursing education in Maryland!"
Later in 2019, LeadNursingForward.org will launch a Career Portal for those interested in nurse educator positions. The portal will provide opportunities for job seekers to find open nurse educator posts and connect to employers, such as colleges, hospitals and other healthcare organizations across Maryland. Employers also will be able to search for candidates to fill vacant positions, with access to a broad spectrum of nurses and educators. All users may create a secure profile to help them connect with the resources they desire.
For more information call 410-548-2079 or visit www.leadnursingforward.org.