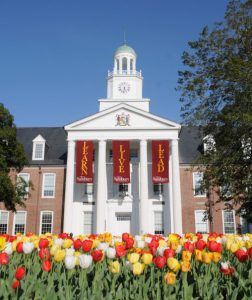 SALISBURY, MD—Salisbury University's Institute for Public Affairs and Civic Engagement (PACE) offers multiple ways for SU students and others to get involved with the community while earning their degree.
Through PACE's ShoreCorps AmeriCorps program, members serving a one-year, 1,700-hour commitment to assisting youth and non-profit partner organizations earn a $594.95 biweekly living allowance, along with a $6,195 post-education award to help pay for federal student loans or future educational expenses. (Members 55 and older may gift this award to a child or grandchild.)
Members also receive six tuition-free undergraduate credits at SU for completion of the training course, federal student loan forbearance and accrued interest payments, and potential eligibility for child care reimbursements and health insurance.
Half-time (900-hour), full-year members earn similar benefits, including a $300 biweekly living allowance and $1,311 post-education award while also helping the community.
"Serving for AmeriCorps was a wonderful experience as I completed my field placement at Westside Intermediate School last year," said SU student Jordan Duley. "I felt proud to be a member and to serve in the community."
Funded through the Maryland Governor's Office on Service and Volunteerism, ShoreCorps is expected to provide more than 66,000 hours of service to Eastern Shore non-profits and government agencies in 2020-21.
Through PACE, SU students and community members also have the opportunity to earn a Certified Nonprofit Professional credential from the national Nonprofit Leadership Alliance (NLA). The semester-long program features classes focusing on the basics of nonprofit management and an internship.
"Enrolling in the Nonprofit Leadership Alliance certification program at SU has opened a lot of career opportunities," said SU student Carly Sniffen. "NLA has provided me with the skills, knowledge and hands-on experience that has prepared me for my future."
"Working with a non-profit gave me the firsthand opportunity to connect with the community and understand some of the major issues people face," said SU student Arianna Musser. "I felt proud and excited to be part of something bigger than myself."
For more information on ShoreCorps or to inquire about membership, visit www.salisbury.edu/AmeriCorps.
For more information on the Nonprofit Leadership Alliance at Salisbury University, email Dr. Carolina Bown, campus director, at cdbown@salisbury.edu.
For more information about PACE, visit www.salisbury.edu/pace.