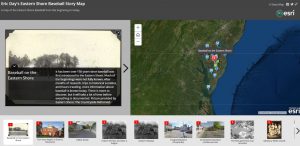 SALISBURY, MD—Salisbury University senior Eric Day recently combined a class project with his passion for Eastern Shore sports history to create an interactive map that can be used by baseball enthusiasts and history buffs alike.
The communication major and geography and geosciences minor created the "Eastern Shore Baseball Story Map" initially as a project last spring in his Map Interpretation and Analysis course when learning about online mapping software. He saw the potential for use outside of the classroom. The map details locations and history of over 150 years of baseball on the Eastern Shore.
"The topic was unlike any interactive map that was discussed in class, and I thought it would help shed more light on a league that not many people know about," said Day. "The game was played here on the Shore before Major League Baseball was officially formed, and baseball legends played here, so it was important to find a way to tell the stories in a creative format that could make the content even more interesting."
The Waldorf, MD, native dedicated time beyond the spring semester, updating his research throughout summer and fall with new findings. He verified details on teams, locations, statistics and more using print and online resources, local historical societies and photos from SU's Edward H. Nabb Research Center for Delmarva History and Culture exhibits "Friends and Rivals: Baseball on Delmarva" and "Eastern Shore Pastime: 100 Years of Baseball."
Day hopes baseball organizations on the Eastern Shore and beyond may be interested in his work. He has shared the map with the Eastern Shore Baseball Hall of Fame, National Baseball Hall of Fame, Baltimore Orioles and several historical societies he thought may find the map useful.
"A great aspect of interactive maps is the ability to easily share the research in a virtual format, which is even more beneficial now due to COVID-19," he said.
Day presented his research at this fall's virtual annual meeting of the Pennsylvania Geographical Society and received a second-place award for undergraduate student research.
"Eric continues to research and collect additional information about the history of baseball on the Delmarva Peninsula," said Dr. Daniel Harris, chair of the Geography and Geosciences Department and instructor of the Map Analysis and Interpretation course. "His passion and commitment to continue to research this topic independently is one of the most pleasant outcomes I've witnessed during this difficult fall semester."
Day hopes to remain on the Eastern Shore after graduation and pursue his passion for sports talk radio. He has been a club member of student radio station WXSU-LP 96.3 FM, where he hosted the sports radio show Sports O'Clock.
For more information call 410-543-6030 or view the map at https://salisburyu.maps.arcgis.com/apps/MapTour/index.html?appid=c9a4c1e56da447f094eea5fa4c297280.