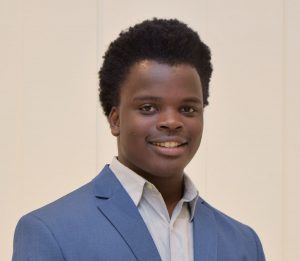 SALISBURY, MD—Salisbury University junior Abiodun "Abey" Adeoye of Hyattsville, MD, has earned two prestigious opportunities that will allow him to explore critical issues in the United States and internationally.
This semester, he was selected for a United Nations Institute for Training and Research (UNITAR) internship with SU's Bosserman Center for Conflict Resolution. For this summer, he was accepted into the Public Policy and International Affairs (PPIA) Program's Junior Summer Institute. Both are firsts for an SU student, said Dr. Kristen Walton, director of SU's Nationally Competitive Fellowships Office.
"This is the perfect intersection between my interests in public policy and international relations," said Adeoye, a history and political science double major. "I'm being exposed to these fields through active engagement with researchers and leaders, and it will help me refine my career interests and get a head start."
For the internship, Adeoye is conducting research related to several of the 17 Sustainable Development Goals (SDGs) adopted by United Nations Member States as part of their 2030 Agenda: quality education; climate action; and peace, justice and strong institutions. He is exploring networks related to each goal and identifying non-governmental organizations with aligning missions to see how UNITAR could partner.
SU's Bosserman Center recently was designated an affiliate of UNITAR, said Dr. Brian Polkinghorn, executive director, adding that Adeoye's work will support the launch of a new UNITAR initiative on "conflict prevention and creative problem solving."
SU alumna Brittany Foutz ('13, M'17) is the UNITAR program manager leading the expansion of conflict prevention partners to help address key SDGs. Switzerland-based UNITAR provides innovative learning solutions to individuals, organizations and institutions to enhance decision-making and action on overcoming global challenges.
"At UNITAR, we are experts in learning methodologies," Foutz said. "Having the right knowledge and skills is crucial to delivering on the SDGs. UNITAR is empowering individuals at the local level. We are training, coaching and mentoring people from institutions in different countries. The Bosserman Center's partnership is going to be successful, and Abey's research will be part of that."
"Partnerships will be crucial in allowing us to amplify the kind of work we can do," added UN Assistant Secretary-General Nikhil Seth, executive director of UNITAR.
In June, Adeoye will begin PPIA's intensive seven-week experiential learning and academic program at the University of Minnesota's Humphrey School of Public Affairs, one of the country's top 10 professional public policy and planning schools.
"I will take classes related to global affairs, human rights, diversity and equity, educational and environmental justice, social welfare innovation, climate change, accessible transit and housing, public safety, and racial justice," Adeoye said.
The program prepares undergrads to thrive in graduate school and launch careers in public service. Summer participants later receive $5,000 toward a master's from some 50 public policy or international affairs programs in PPIA's Grad School Consortium.
This semester, Adeoye also was offered a Bosserman UNESCO Fellowship to the United Nations Educational, Scientific and Cultural Organization's Paris headquarters.
For information about SU's Bosserman Center, visit www.conflict-resolution.org. For information about national fellowships, SU students or alumni may contact Walton at kpwalton@salisbury.edu or visit www.salisbury.edu/nationalfellowships.