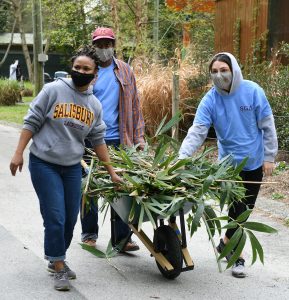 SALISBURY, MD—Salisbury University students recently spent their Saturday sprucing up public recreation areas during the SU Student Government Association's annual "I Love Salisbury" community cleanup event.
Due to COVID-19 precautions, participation was limited to 200 students, with face mask and physical distancing protocols in place.
Cleanup sites included Salisbury Zoological Park, City Park, Camden Community Garden, Lake Street Playground, Waterside Playground, Johnson Lake Neighborhood Playground and the Jeanette P. Chipman Boundless Playground.
For more information call 410-543-6030 or visit the SU website at www.salisbury.edu.