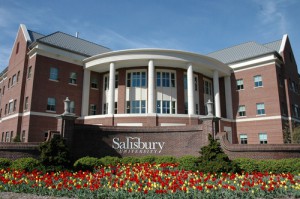 SALISBURY, MD—As the COVID-19 pandemic spread, many college and university students were hit hard with added expenses and a possible lack of income as some lost employment opportunities.
Salisbury University joins its fellow University System of Maryland (USM) institutions for the USM United Virtual Benefit Show and Concert 2 p.m. Saturday, September 12.
     Along with performances by 3OH!3, Koffee and Jesse McCartney and a question and answer session with W. Kamau Bell, the show, hosted by comedian Jaboukie Young-White, features student performers from USM institutions.
     SU will be represented by Squawkapella, Talia Hall and a duet by Alexis Andrew and Rosie Devito.
     Proceeds from the concert will benefit student emergency assistance funds at member institutions.
     Visit bit.ly/USMUnited to watch live. For more information call 410-543-6030 or visit the USM United website at www.USMUnited.org.