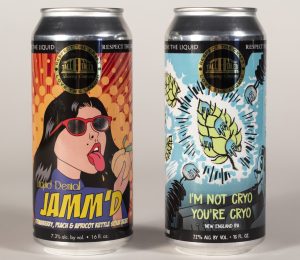 SALISBURY, MD—As part of their design class, Salisbury University students earlier this semester helped create packaging for cans and tap handles representing two new Tall Tales Brewing Co. products.
     Now, those students find themselves among the likes of Pepsi, Mattel and Nestlé as winners of Graphic Design USA's 2020 Package Design Awards.
     Students in assistant professor Allison Seth's Design 3 course, who make up the SU Design Agency, worked with Tall Tales to create graphics for two new creations on the company's Liquid Denial line: Jamm'd and I'm Not Cryo, You're Cryo.
     The entire class created submissions. Designs by Maddie Noonan, for Jamm'd, and Bri Purnell, for I'm Not Cryo, You're Cryo, were selected by Tall Tales for use.
     The SU designs were among the 200 winners of the annual Graphic Design USA competition. The contest celebrates beauty and style, but also the power of deliberate design to forge an emotional link with the buyer at the "moment of truth" when purchase decisions are made.
     "As part of the SU Design Agency, our students receive real-world experience and the thrill of seeing their work used for packaging on store shelves and in marketing campaigns," said Seth. "Winning awards for those designs provides even more validation for their efforts and hopefully will help them catch the eyes of future clients."
     SU and the SU Design Agency alumna Mandee Margherita, a graphic designer working for Tall Tales, assisted with the student design project.
     For more information call 410-543-6030 or visit the SU website at www.salisbury.edu.