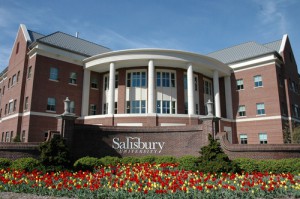 SALISBURY, MD—Saturday, December 12, marks the five-year anniversary of the world's coming together to sign the Paris Agreement to strengthen the global response to the threat of climate change.
Salisbury University is marking the moment by committing to a national mobilization for a clean energy economy as part of the "America Is All In" joint statement, signed by President Charles Wight and more than 1,300 other governmental, corporate, non-profit and educational leaders throughout the U.S.
This statement, which will be published in the Washington Post on December 12, will be delivered to the incoming Biden-Harris administration, as well as to United Nations officials and global heads of state at the Climate Ambition Summit hosted by the United Kingdom, also on December 12.
"SU has long believed in the importance of responding to climate change and in nurturing the sometimes fragile ecosystem in which we live," said Wight. "Our proximity to the Chesapeake Bay and its tributaries provides us with a unique perspective to see firsthand how humankind can impact nature and vice versa. It is our responsibility to be good stewards of the environment, and the Paris Agreement provides a framework for that requirement on a global scale."
In 2007, SU joined the American College and University Presidents' Climate Commitment, pledging to reduce the institution's net greenhouse gas emissions to zero by 2050. The University's climate action plan provides guidelines for this goal.
Initiatives from U.S. Green Building Council Leadership in Energy and Environmental Design (LEED)-certified new construction and renovation projects to advances in academic programs such as Environmental Studies have pushed SU closer to that target in the past decade.
The "America Is All In" declaration is organized by We Are Still In, a coalition in support of climate action and a pledge to uphold U.S. commitments to reduce emissions under the Paris Agreement.
The joint statement is available at www.AmericaIsAllIn.com. For more information call 410-543-6030 or visit the SU website at www.salisbury.edu.