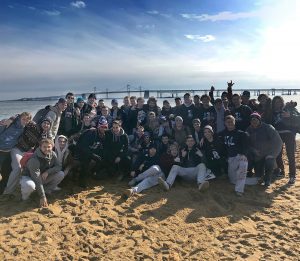 SALISBURY, MD—Salisbury University students and alumni were the highest university fundraisers for the 2019 Maryland State Police Polar Bear Plunge, collecting over $16,500 for Special Olympics Maryland.
Every January, over 10,000 "plungers" take a dip in the 30-degree Chesapeake Bay at Sandy Point State Park. SU teams included the Women's Soccer Club, and Sigma Tau Gamma students and alumni.
Proceeds from the event benefit over 7,780 athletes of Special Olympics Maryland. The organization's board of directors includes Dr. Karen Olmstead, SU provost and senior vice president of academic affairs.
Other Maryland universities participating in this year's plunge include the University of Maryland, Towson University, Mount St. Mary's University and the U.S. Naval Academy.
For more information call 410-543-6030 or visit the SU website at www.salisbury.edu.