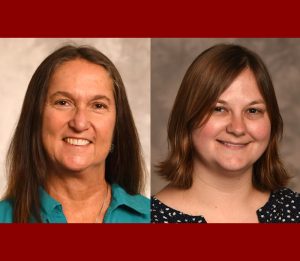 SALISBURY, MD – At Salisbury University, thousands of students each semester spend countless hours working with faculty in classrooms, laboratories and clinical settings to advance their degrees.
Often behind the scenes, hundreds of University staff help make those interactions possible.
Two such hard-working SU employees recently were recognized with one of the University System of Maryland's (USM's) highest honors: the Board of Regents' Staff Award for Excellence.
Donna Carey, executive administrative assistant in the Charles R. and Martha N. Fulton School of Liberal Arts Dean's Office was recognized in the "Exceptional Contribution to the Institution" category. Haley Cristea, instructional designer in the Instructional Design and Delivery Office, was honored in the "Effectiveness and Efficiency" category.
"We are very proud that SU is home to two of this year's seven USM Board of Regents' Staff Award recipients," said SU President Carolyn Ringer Lepre. "Their commitment to our students, faculty and staff, and the University as a whole, is commendable. The fact that they excelled at such a high level even during the unprecedented COVID-19 pandemic is even more admirable. Both truly are deserving of this honor."
Carey's accomplishments at SU include collaborating with colleagues to create and support a MyClasses online management site to assist with onboarding administrative support staff. She also holds professional development meetings with all Fulton School administrative staff.
Beyond her service to the school, she also served as a member of the SU Staff Senate, representing non-exempt employees from 2015- 2021 and chairing its Human Resources Standing Committee from 2017-2019. In this capacity, she led the charge for non-exempt employees — who are not covered by collective bargaining — to be included in SU's equity adjustment pool for salary increases.
"Beyond her anticipated responsibilities, Donna has managed tremendous additional duties since the start of the COVID-19 pandemic," said her nominator, Dr. Chrys Egan, associate dean of the Fulton School. "She had to organize and support the needs of faculty, staff and students; transition to online learning; and transition back to campus for SU's largest academic unit."
"I am very proud of how we, as a school and institution, have handled the challenge of the COVID-19 pandemic over the past two years, and Donna powerfully represents the kind of colleague that made that effort both possible and successful," added Dr. Maarten Pereboom, dean of the Fulton School. "This was a group effort, to be sure, but Donna's organizational skills and attention to detail were key to the success of that effort."
Cristea also was praised for her COVID-19-related work. When the pandemic started and SU pivoted to virtual classes, her emphasis on making SU's instructional design and delivery systems flexible, responsive and cost effective became even more important than usual. She worked with faculty and staff to transition their courses using technologies and platforms that had not been factored into the University's pre-pandemic budgets. Her efforts helped SU save an estimated $110,000 while increasing student and faculty access and participation.
"In three separate instances, completely outside the scope of her position, Haley selflessly mitigated, problem solved and saved thousands of dollars as she worked with faculty and staff to seamlessly and effectively transition their face-to-face, planned programming to virtual or hybrid iterations that would be COVID-19-proof," said her nominator, Dr. Sarah E.J. Winger, assessment coordinator in the University Analysis, Reporting and Assessment Office.
"Haley is an extremely valuable, unfaltering employee who labors quietly and relentlessly behind the scenes to support various initiatives on campus, resulting in cost savings for those units," added Melissa Thomas, SU instructional design and delivery manager.
Both highlighted SU's Gaining Understanding as a Lifelong Learner (GULL) Week assessment, Governor's Emergency Education Relief (GEER) grant programming and EnviroKids Literacy Festival as areas in which Cristea went above and beyond her typical job duties.
Carey and Cristea will receive their awards during the USM Board of Regents' first meeting of the 2022-23 academic year, scheduled Friday, September 16, at the University of Maryland, College Park.
Learn more about how SU students, faculty and staff are exploring opportunities for greatness and making tomorrow theirs at www.salisbury.edu.