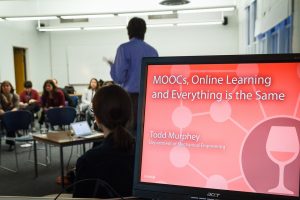 SALISBURY, MD—Salisbury University sophomore Leah Disbennett knows a deal when she sees one.
That's why she went shopping in August during Shop Maryland Tax-Free Week, during which sales tax is waived for clothes and shoes costing $100 or less. Capturing her buying spree on video, however, netted her an even bigger bargain: $7,500 off her college tuition.
During a visit to campus today, Maryland Comptroller Peter Franchot surprised the psychology major from Hebron, MD, with a $2,500 scholarship as the winner of this year's Shop Maryland Tax-Free Week student photo/video contest, co-sponsored by his office and the Maryland Retailers Association.
SU and the University System of Maryland Foundation each matched the award for a total of $7,500.
As part of his presentation, Franchot also praised SU, calling it "the Yale University of Maryland, numero uno [and] a hidden gem."
For the contest, entrants were asked to post Maryland-themed photos or videos of their shopping experiences that week on social media with the hashtag #ShopMDTaxFree. Disbennett's video is available online at https://twitter.com/LeahDisbennett/status/1162396810960351234.
For more information call 410-543-6030 or visit the SU website at www.salisbury.edu.