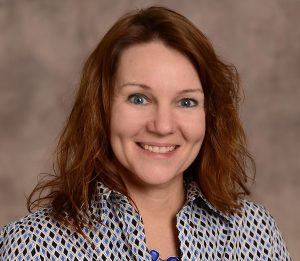 SALISBURY, MD—Dr. Chrys Egan, co-director of Salisbury University's Office of Undergraduate Research and Creative Activity (OURCA), joins more than 50 other leaders from across the state as a member of the Leadership Maryland Class of 2020.
Founded in 1992, Leadership Maryland is an independent, educational, non-profit organization designed to inform top-level executives, from the public and private sectors, about the critical issues, challenges and opportunities facing Maryland and its regions.
In addition to her duties with OURCA, Egan is an SU professor of communication with more than 30 academic publications and 50 popular press articles on communication, leadership and culture. She is chair of the International Leadership Association's Women and Leadership affinity group and a past president of the Popular Cultural Association in the South. She also serves as second vice president of the Maryland Communication Association.
At SU, she is director of the Center for Extended and Lifelong Learning Youth Innovation Academy and a Business, Economic and Community Outreach Network (BEACON) scholar in residence. Her campus honors include the President's Diversity, Student Government Outstanding Faculty, Outstanding Research Mentor, President's Faculty, Distinguished Faculty and Alumni Association Faculty Appreciation awards.
Statewide, she has earned the University System of Maryland Board of Regents' Award for Excellence in Mentoring, one of the organization's highest faculty honors, and was named among Maryland's Top 100 Women by the Baltimore-based Daily Record.
Following a two-day opening retreat in April, Leadership Maryland participants will attend six intense sessions focusing on economic development, education, health and human services, criminal and juvenile justice, environment, multiculturalism and diversity. More than 100 experts from business, government, education and non-profits serve as panelists and guest speakers.
Leadership Maryland is one of 34 such programs nationwide and has graduated over 1,100 statewide leaders. Alumni at SU include President Charles Wight; Eli Modlin, chief of staff; Dr. Karen Olmstead, provost and senior vice president of student affairs; Dr. Dane Foust, vice president of student affairs; Mary Angela Baker, director of the Center for Extended and Lifelong Learning; William Burke, executive director for economic development; Dr. Clifton Griffin, dean of graduate studies and research; and Dr. Memo Diriker, director of BEACON. For more information call 410-543-6030 or visit the SU website at www.salisbury.edu.