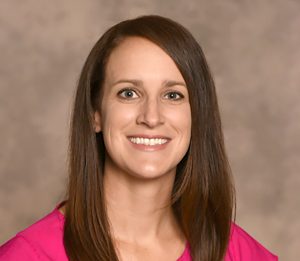 Dr. Sarah Guy, associate director of the Business, Economic and Community Outreach Network (BEACON) in Salisbury University's Franklin P. Perdue School of Business, recently was named among Maryland's Leading Women by the Daily Record.
The Baltimore-based newspaper recently announced Guy among 52 honorees selected from throughout the state by past winners of the publication's Leading Women and Maryland's Top 100 Women designations. Nominees age 40 or younger are chosen based on professional experience, community involvement and commitment to inspiring change.
"Sarah brings an exceptional dedication, caring and perfection to everything she does," said Dr. Memo Diriker, BEACON director. "From her work at BEACON to the senior board positions she holds with organizations in the community, she is the embodiment of authentic leadership."
At BEACON, Guy helps provide decision makers in public and private sectors on Delmarva and throughout Maryland with the business and economic development data and information they need to make informed decisions. The network uses targeted outreach programs, applied research, trend and scenario analyses, demand forecasting, strategic planning, and feasibility and economic impact studies, among other tools.
While providing these services, BEACON also offers a wide range of experiential learning opportunities for Perdue School students, many of whom are overseen by Guy. She also serves on the school's Career Advisory Board.
In addition, she is a graduate of Leadership Maryland, a competitive program dedicated to building a stronger state by cultivating, educating and connecting leaders with a focus on vital social, economic and environmental issues.
In the community, Guy is an active member of organizations including Junior Achievement of the Eastern Shore and the Salisbury Sunrise Rotary Club.
With Junior Achievement, she took the lead in maintaining and managing a Rotary district grant to launch a virtual financial literacy program for youth. Through Rotary, she coordinated a literacy program, incentivizing children in local non-profit after-school programs to read during the winter holidays. She was named the organization's Rotarian of the Year in 2016.
As a Leading Woman, she will be honored during an awards celebration Monday, December 3, at the Westin Annapolis. Admission is $120 per person. For tickets visit https://thedailyrecord.com/leading-women.
For more information about the University call 410-543-6030 or visit the SU website at www.salisbury.edu.