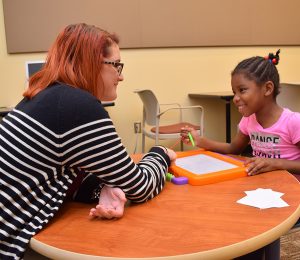 SALISBURY, MD – A new bill filed in the U.S. Senate Thursday, February 25, seeks to assist students in high-need K-12 schools with access to resources like those provided by Salisbury University's Samuel W. and Marilyn C. Seidel School of Education.
The Partnering Aspiring Teachers with High-Need Schools (PATHS) to Tutor Act, sponsored by a bi-partisan group of senators, would expand access to high-quality tutoring through a $500 million competitive grant program disbursed to local partnerships of educator-preparation programs, K-12 schools and community organizations.
Heavily involved in the development of the legislation through Deans for Impact, a national education advocacy organization, Dr. Laurie Henry, dean of the Seidel School, is one of 43 who co-signed a letter in support of the bill that will be delivered to congressional leadership on Friday.
"The PATHS to Tutor Act builds the capacity of rural-serving institutions like SU to work with local schools and other community partners to support K-12 students and ensure a reliable pipeline of effective educators," said Henry. "It also creates an opportunity for increased access to broadband and helps address learning gaps by providing tutoring support at home."
With the COVID-19 pandemic creating struggles for some students, particularly those in rural areas, the legislation seeks to provide academic and social-emotional support to students through intensive, structured tutoring. The arrangement would benefit SU, as well as area K-12 schools, by strengthening future teachers by providing them with real opportunities to practice classroom skills.
The high-impact tutoring programs proposed in the bill involve one-on-one or small-group (four or fewer) interaction, multiple sessions each week, matching content and grade-specific tutors. It also provides standardized content and training for tutors.
For more information call 410-543-6030 or visit the SU website at www.salisbury.edu.