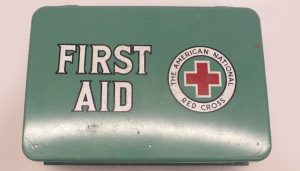 SALISBURY, MD—The Edward H. Nabb Research Center for Delmarva History and Culture at Salisbury University presents the exhibit "The Power of Humanity: The Red Cross on Delmarva" January 25-July 16 in a virtual format.
     American Red Cross chapters throughout Delmarva have been involved in helping families in the region from the influenza epidemic of 1918 through the current COVID-19 pandemic. Local chapters have also offered assistance to those affected by natural disasters beyond the area, such as Hurricane Katrina in New Orleans in 2005.
     The exhibition details the long and varied services of the Red Cross on the Eastern Shore through historical artifacts, documents, and photographs in the Nabb Center's collection.
     The exhibit is free to view on the Nabb Center's website at www.salisbury.edu/libraries/nabb/events-exhibits/.
     For more information call 410-543-6030 or visit the SU website at www.salisbury.edu.