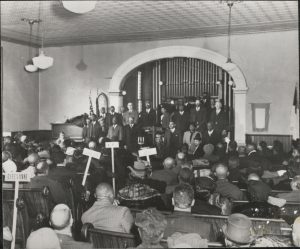 SALISBURY, MD—A collection of more than 3,600 photos taken and collected by Walter C. Thurston are available for viewing digitally through Salisbury University's Edward H. Nabb Research Center for Delmarva History and Culture.
     Thurston was an accomplished amateur photographer and a rural route clerk for the U.S. Post Office, spending nights and weekends capturing the landscape of the lower Eastern Shore. After retiring from the post office, he opened a studio in downtown Salisbury.
     The collection of images captures local businesses, schools, public events, neighborhoods and area attractions from the mid-1950s to the mid-1970s. Of particular interest are the reoccurring views of Main Street and downtown Salisbury documenting the transformative streetscape.
     Also included are historical photographs of Salisbury and the Delmarva Peninsula dating back to the 1850s that Thurston collected with local historian and attorney John Jacob, Jr.
     While many of the images have been identified, the Nabb Center asks for any additional information the community may be able to provide on some of the pictures, including the locations represented by aerial images.
     The Nabb Center received the collection from Thurston's granddaughter, Pam Pickel, in 2016. Following a four-year digitization project, the electronic images are available for viewing at https://flic.kr/s/aHsmNcvpUj.
     For more information visit the Nabb Center website at www.salisbury.edu/nabb.