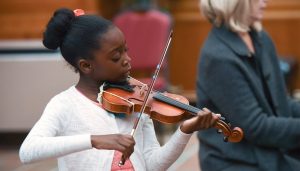 PRESTO, the performing arts education outreach program through the Center for Extended and Lifelong Learning at Salisbury University, begins fall individual music and theater lessons the week of September 9.
Sessions are open to individuals of all ages, and those in the Salisbury community. Full sessions run for 12 weeks, available in piano, strings, voice, guitar, percussion, theatre and most wind and brass instruments. Instructors include SU faculty, students and qualified music professionals from the community. All lessons are held at SU.
Along with the full classes, a "Small and Mighty" youth group guitar class taught by Dr. Matthew Michaud is available for ages 8-14. The six-week, group guitar course is 5-6 p.m. on Wednesdays, September 18-October 23 in Fulton Hall. Students must provide their own guitars.
For more information, including cost, call 410-548-2985 or visit the PRESTO website at www.salisbury.edu/presto.