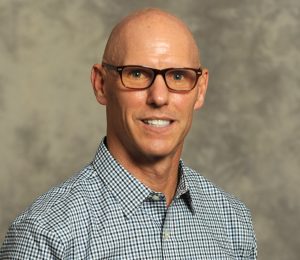 SALISBURY, MD—For Dr. Dean Ravizza, Salisbury University professor of secondary and physical education, sport is more than just a fun recreational activity; it also can be a force for change.
The University System of Maryland (USM) Board of Regents recently recognized Ravizza's use of sport in assisting underserved youth on six continents — and at home in Salisbury — by honoring him with one of its highest faculty accolades: the Regents' Award for Excellence in Public Service.
The award will be presented at a future USM Board of Regents meeting.
"Throughout his career Dr. Ravizza has focused on using sport and physical education as a means to improve the lives of youth and their communities," said SU President Charles Wight. "His efforts range from a long-standing adapted physical education program at a local elementary school to using sport to support social inclusion of refugees in Europe.
"His public service is truly global, spanning six continents … and including work with refugees in Europe; a United Nations Educational, Scientific and Cultural Organization (UNESCO)-supported sustainable development and peace project; a handbook for the International Red Cross Red Crescent; and several conference presentations and scholarly works."
At Pinehurst Elementary School in Salisbury, Ravizza engages his physical education students, as well as SU engineering students, in creating physical education opportunities for elementary-aged children with severe disabilities. While the engineering students assist in developing adaptive athletic equipment, Ravizza's students to authentically engage with the elementary school students.
Through the support network Ravizza has built, many of his students also provide outreach through organizations including Special Olympics Maryland, the Wounded Warrior Project and the Society of Physical Educators (SHAPE) Maryland.
Internationally, Ravizza has earned the Rotary International Peace Fellowship for his efforts, which have included using sport to help reintegrate children in crisis, including former child soldiers, refugees and immigrants. He also has been recognized for his research in sport diplomacy, the use of sport for violence prevention and peace promotion.
"Dr. Ravizza has had a remarkable and sustained record of service that extends his teaching and scholarship in ways that are highly innovative and beneficial to the communities he works with here on the Eastern Shore and across the globe," said Dr. Karen Olmstead, SU provost and senior vice president of academic affairs.
Dr. Laurie Henry, dean of SU's Samuel W. and Marilyn C. Seidel School of Education, added: "Dr. Ravizza is a globally recognized scholar who is dedicated to creating meaningful change in the world.
"As an academic dean, one encounters many extremely talented faculties. When one is fortunate enough to have the pleasure of working with an individual who is so extraordinary that he stands shoulders above the others, he should be recognized for those outstanding contributions. Dr. Ravizza is one of those extraordinary individuals."
In addition to his international honors, Ravizza also has earned SU's Distinguished Faculty and President's Diversity awards, and the SU Alumni Association's Faculty Appreciation Award. He currently serves as the SU representative for the Maryland Adapted Physical Education Consortium.
Ravizza earned his Ph.D. from Virginia Polytechnic and State University (Virginia Tech).
For more information call 410-543-6030 or visit the SU website at www.salisbury.edu.