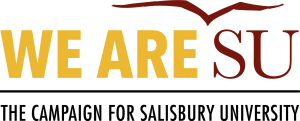 While Salisbury University hasn't changed its logo, the marketing team led by Associate Vice President of Marketing and Communications, Susan Eagle recently launched a new brand that speaks to all their key audiences and stakeholders. Make Tomorrow Yours at SU.
In the April Marketing & Media workshop, chamber members listened to Susan talk about what went into their rebranding strategy which included first and foremost, the buy-in from all internal administration.
As Susan and her team explain it best, "The SU brand is more than a logo or marketing tool.  The experiences others have with our campus are what define and connect us.  Our stories and the way they are told define us in the minds of our audience.  It's not just how we look or what we say – it's what we do together."
To learn more, visit www.salisbury.edu/brand/.
The Salisbury Area Chamber of Commerce Marketing Committee and D3 Corp. host bi-monthly marketing workshops, featuring marketing professionals from across Delmarva. If you are a marketing professional and a SACC member and are interested in sharing your expertise, contact Jenni Pastusak at jenni@d3corp.com. The webinars are free to members and non-members. Visit www.salisburyarea.com for information on upcoming workshops.