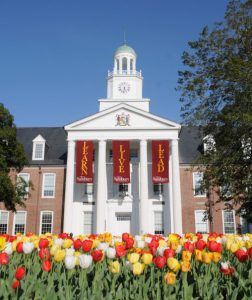 IMMEDIATELY
SALISBURY, MD—The Salisbury University Police Department, working with the FBI, has identified a suspect in the racist and threatening vandalism recently discovered on campus.
The matter has been referred to the Wicomico County State's Attorney's Office for appropriate charges and prosecution. The suspect is not believed to have an immediate connection to the campus.
"The racist threats scrawled on walls and doors in our academic buildings caused a great deal of fear among members of our community," said SU President Charles Wight. "We hope that this significant development in the investigation helps to reassure the SU community and will rebuild our collective sense of security."
Last fall, police began an investigation into threatening vandalism discovered in Fulton Hall. Additional graffiti with similar tones was found in Fulton and Henson Science halls in February.
Wight thanked the SU Police Department for its work in conducting the investigation. He also expressed appreciation to the allied agencies that provided assistance, including the FBI, Maryland State Police, Salisbury Police Department, Wicomico County Sheriff's Office and Wicomico County State's Attorney's Office.
In the wake of the vandalism last semester, the University announced a number of new diversity initiatives. Many of those priorities, including a national search for a chief diversity officer; campus climate survey to allow students, faculty and staff to share their experiences at SU and make suggestions for improvement; and quarterly town hall meetings with University administrators, have been realized this semester.
A list of some initiatives is available at https://www.salisbury.edu/news/article/2019-12-3-SU-Announces-New-Diversity-and-Inclusion-Initiatives.
"It is only by embracing diversity that an educational institution can fully realize its potential for educational excellence," Wight said. "Working together constructively, we must now take the next steps toward building and maintaining a collaborative culture of inclusion that supports this excellence at SU."
For more information call 410-543-6030 or visit the SU website at www.salisbury.edu.