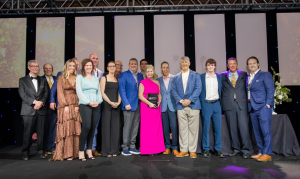 Austin, TX – The Advisors with SVN | Miller Commercial Real Estate recently attended the SVN National Conference, bringing home several top honors. The conference was held in Austin, Texas. The office collectively earned two top honors at the event.
SVN | Miller has been awarded the prestigious Humanitarian of the Year award for their outstanding community service and involvement. The Humanitarian of the Year award is given to one company each year that has demonstrated a strong commitment to community service and has made a significant impact on the lives of those they serve. Notable projects include ramp builds with Chesapeake Housing Mission and several fundraisers for United Way of the Lower Eastern Shore.
"Receiving this award is a great honor for our team. It is a testament to our hard work and dedication to making a positive impact in our community. We are grateful for the recognition and will continue to work to improve the lives of those around us," said Amber Bostwick, Operations Manager.
SVN| Miller earned the #8 office for SVN International Inc. of the 200+ SVN offices throughout the Country, SVN | Miller closed out another year in the top 10 firms. The Salisbury area is a smaller metropolitan area that has seen significant growth and development in recent years. Advisors with SVN | Miller are intimately familiar with the local real estate market and are well-equipped to help buyers and sellers navigate the challenges in this competitive market.
"We are honored to be recognized as one of the top commercial real estate brokerage firms," said Rick Tilghman, Managing Director. "Our team of advisors is committed to providing our clients with the best possible service and expertise, and this recognition reflects their hard work and dedication."
Several Advisors also brought home top honors from the event. The Hanna Team earned the coveted Partner's Circle award.  The Hanna Team consists of Henry Hanna, CCIM, SIOR, Wesley Cox, CCIM, Flo Brotzman, and Blake Boyd.  The McClellan team received the prestigious President's Award. The McClellan team includes John McClellan, CCIM, SIOR, Kelly Jeter, and Chris Messick. Senior Advisors, Andy Ball, Tonney Insley, Christian Peek CCIM, Brent Miller CCIM CPM and Brandon Heaver each earned the Achiever's award.
If you would like to discuss professional representation with one of our Advisors, please call our office at 410.543.2440 or visit 
www.SVNmiller.com
 to be connected with an area specialist.