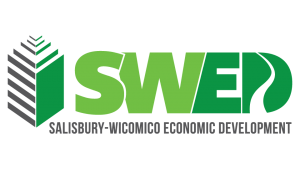 SALISBURY, MD (December 4, 2020) – Beginning on Monday, December 7, 2020 and with funding through the Coronavirus Aid, Relief and Economic Security Act (CARES), Salisbury-Wicomico Economic Development, Inc. (SWED) will begin accepting applications for its new SWED Restaurant Relief Supplemental Grant Fund. This fund targets eligible restaurants in Wicomico County that have been significantly and negatively impacted by restrictions on indoor dining, reduced hours of operation and other limitations due to the Covid-19 pandemic.
SWED Executive Director David Ryan said 'we recognize the challenges all businesses have faced this year as we've deployed in excess of $9 million dollars to our small business community since the pandemic began. We also recognize the restaurant industry has been especially hard hit due to the loss of key months of operation, restricted capacity, reduced indoor operating hours and added costs to comply with new operating environments. These funds will help retain jobs, further assist restaurants in adapting to new business models, mitigate the adverse effect the pandemic continues to have on our restaurant industry and help restaurants better prepare and survive in the coming winter months".
Targeted grant amounts range from $7,500 for restaurants without a Class B Restaurant Beer, Wine & Liquor license to $60,000 for restaurants with a Class B Restaurant Beer, Wine & Liquor license with more than thirty full-time employees.
The program targets restaurants that have experienced a significant loss of revenue due in large part to restricted indoor dining capacity and reduced indoor operating hours.
Grant funds may be used for expenditures incurred (and not reimbursed previously by any other Federal or State program) or to be incurred between March 1, 2020 and December 30, 2020. Eligible expenditures include:
– Working capital for rent, payroll, utilities and job training
– Purchase of equipment and services to expand outdoor dining capacity (such as tents, heaters, warmers and carts)
– Infrastructure improvements such as HVAC upgrades
– Technology to support carryout and delivery
– Purchase of PPE, disposable food containers and utensils
– Sanitation services
The application period begins December 7, 2020 at 9:00 am and concludes December 11, 2020 at 4:00 pm. Grant awards are expected to commence on Monday, December 14, 2020. More information and an online application can be found at www.swed.org.
About Salisbury – Wicomico Economic Development
Salisbury – Wicomico Economic Development, Inc., was formed in 1968 to promote the preservation, expansion and attraction of industry and jobs to Wicomico County, Maryland.
Throughout the summer and fall of 2020 and with funding from the Coronavirus Aid, Relief and Economic Security Act, SWED completed its first two business assistance programs, deploying $9 million to more than 900 small businesses throughout Wicomico County.
With funding from the State of Maryland, SWED is completing its more recent Restaurant Relief Grant program by deploying $836,000 to more than one hundred restaurants throughout Wicomico County.
More information can be found at www.swed.org
Contact Information: Salisbury-Wicomico Economic Development, Inc.
David Ryan, Executive Director, 410-749-1251 or info@swed.org