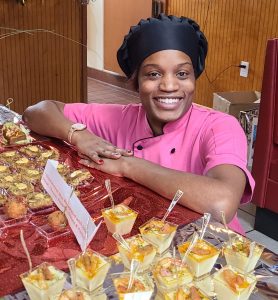 Members of the SACC were welcomed by Shiesha, Chef Shy, and her husband Ja-Rel to their new restaurant Take your Pick, located at 923 Mt. Hermon Road.   Inspired by the wonderful cooking of her grandmother Ruthie Mae Jackson, Chef Shy opened a catering business in 2017, followed by the restaurant in September 2021.
Specializing in comfort food, Chef Shy shared with us that the key ingredient for her cooking is LOVE.   Her husband, mom, aunt and her son help her in preparing fresh meals every day.    Our palates were teased with samples of sweet Tai-Asian salad, vegan burgers, seafood mac & cheese bites, cheesesteak mac bites, shrimp & grits and mini crab cakes.   Desserts included samples of cheesecakes, that were topped with apples, peaches and strawberries.
Their menu changes frequently, because Chef Shy does not want you to get bored, thus the name Take Your Pick.  The easiest way to view their updated menu is by visiting their Facebook page.
Not only is Chef Shy cooking amazing meals, she is also very involved with helping the community.  Decembers project is hosting the 2nd Annual Christmas Blessing, which is a gift drive for those in need where she will also cook a fresh meal for several families.
For more information visit www.letstakeyourpick.com.