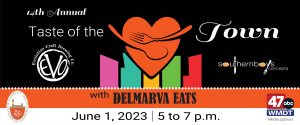 June 1 Taste of the Town with Delmarva Eats
The Salisbury Area Chamber of Commerce is pleased to announce the 14th Annual Taste of the Town, presented by Evolution Craft Brewing Company and Southern Boy's Concepts, on June 1, 2023, from 5:00 – 7:00 PM at Dove Pointe, located at 1225 Mt Hermon Rd, Salisbury, MD 21804.
Taste of the Town is one of the year's most highly attended Chamber events and is open to members and the public, and participation is FREE to ALL Delmarva Restaurants!
This "Iron Chef Competition" features restaurants from all across Delmarva, who will present samplings of their best dishes in one of three categories:
Simple Tastes – representing casual, light fare; Signature Tastes – representing an upscale, more refined dishes, and Delectable Desserts – representing the creme de la creme of Delmarva desserts.
Attendees will be provided with tickets used to cast their vote in each category. The participant with the most votes win their category and is presented with a commemorative plaque, cash prize, and recognition in the media and on Chamber websites.
This year's participating restaurants include Bernie's Homemade Goodies | Brew River Restaurant and Bar | The Dinner Express | Mad Hatter Cafe | Market Street Inn Restaurant & Pub | Mogan's Oyster House | Sobo's Wine Beerstro | Sub Runners | The Ugly Pie | Tropical Smoothie Café, plus, we are adding restaurants daily!
Advance tickets are available until 5:00 PM on May 31, 2023, and include unlimited food samples, one voting ticket, and one drink ticket.
$25 for SACC members | $35 for non-members  |  $45 at the door
Foodies may PURCHASE TICKETS at https://bit.ly/42xj4Kb.
Restaurant Registration and Sponsorship forms are also available online at https://salisburyarea.com/chamber-events/tasteofthetown/
This year's event is sponsored by 47 ABC – WMDT | Dove Pointe | Landmark Insurance & Financial Group | The Voice Radio Network
For more information, contact Cindy Morgan Chambers at amorgan@salisburyarea.com or 410-749-0144 x 102.