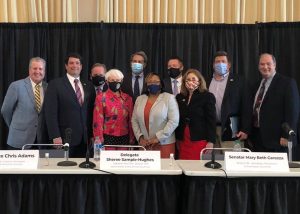 The 33rd Annual Southern Delmarva Economic Forecast, postponed from December 2020, took place on April 28, 2021, at the Roland E. Powell Convention, Ocean City, Maryland. This regional event sold out with more than two hundred business and government leaders from Maryland, Virginia, and Delaware in attendance. 
The event was held according to COVID-19 precautions including social distancing, face masks, and food safety according to Worcester County Health Department guidelines.  
See the links below to view a video recap of the panel discussions.
Opening Remarks and Panel 1 – Economic Forecast Speakers
https://www.youtube.com/watch?v=jn–6iBbScE
Panel 2 – Economic Development Directors
https://www.youtube.com/watch?v=HQwEujG0rdw
Panel 3 – Rural Broadband
https://www.youtube.com/watch?v=L824eu1gxzI
Panel 4 – Fun, Fit & Grow
https://youtu.be/GWAv6YLBdR8
Offshore Wind Update
https://www.youtube.com/watch?v=wCYObXMdTR0
2021 Eastern Shore Legislative Delegation
https://youtu.be/cfGHsXYojxU

Video sponsorship by PAC 14. To donate to PAC 14: https://www.pac14.org/donate.html
The day began with a national and regional economic snapshot provided by Dr. Memo Diriker, Director BEACON at Salisbury University, and Dr. Dustin Chambers, Professor of Economics at the Franklin P. Perdue School of Business at Salisbury University.  
Diriker and Chambers offered their perspectives on the current state of the economy, where the economy is likely to be headed for the remainder of 2021 and forward to 2022. Diriker cautioned that "…inflation will be a concern, especially towards the end of this year and entering 2022." Chambers added, "The businesses that survived the economic downturn caused by the pandemic are poised to weather this next storm well." 
The largest panel of the day featured the Economic Development Directors from six Delmarva counties — Rich Morrison from Accomack County Virginia, Bill Pfaff from Sussex County Delaware, Susan Banks from Dorchester County, Danny Thompson from Somerset County, Melanie Pursel from Worcester County, and Dave Ryan from Wicomico County.  
These panelists shared insight regarding their jurisdiction's unique challenges and opportunities amidst the Covid -19 crisis. Bill Pfaff from Sussex County noted that the eastern side of Sussex is nearly built out. "We processed more than ten-thousand commercial and residential building permits the past year and with the addition of Amazon to Seaford, we expect western Sussex to now take off."  
All the Maryland Economic Development Directors on the panel commented on the CARES relief dollars each were tasked to deploy to ease the financial burdens of local businesses. Ryan noted," We processed these CARES checks in a matter of days to expedite needed dollars into the hands of our small businesses." All the Economic Development Directors noted that the recovery is underway and as vaccination rates increase demand for businesses will grow. 
Rural broadband and its impact for Delmarva was the topic of a panel featuring Delaware State Senator Brian Pettyjohn; Robert Bridgham, Executive Director, Eastern Shore of Virginia Broadband Authority; Valerie Connelly, Vice President, Government Affairs and Public Relations for Choptank Electric Co–op, and Jason Clarke, Chief Information Officer for the State of Delaware. They all touched on capacity issues in implementing broadband service and broadband opportunities to countless students while remote learning. 
Tourism, Healthcare, and Agriculture took center stage with Susan Jones, Executive Director, Ocean City Hotel-Motel-Restaurant Association; Steve Leonard, President/CEO, TidalHealth, and G. Andrew Getty, Assistant General Counsel, Perdue Farms. Each provided updates on their specific industries — how the pandemic changed tourism, agriculture, healthcare business, and trends. They all focused on a brighter future and acknowledged that many pandemic changes are likely to become permanent. 
Matt Drew, Offshore Infrastructure Construction Manager with Ørsted, presented the audience with the latest updates on the Skipjack Wind Farm being developed off the Maryland/Delaware coast. The offshore projects are in the early stages and moving to the next stages for turbine installation. Drew commented, "We are proud to be working with our governmental and community partners as we move forward." He added, "The operation's maintenance base and the jobs associated with it will come to Ocean City and service the offshore turbines." 
The event ended with a Q and A session to recap the 2021 Maryland General Assembly Session. State Senators Addie Eckhardt and Mary Beth Carozza and Delegates Sheree Sample-Hughes, Chris Adams, Johnny Mautz, Charles Otto, and Wayne Hartman addressed questions prepared by the Salisbury Area Chamber of Commerce's Government and Business Affairs Committee. Greg Reddell, Committee Co-Chair, moderated the session. 
The Salisbury Area Chamber of Commerce wishes thank Presenting Sponsor, Beacon at Salisbury University, Media Sponsor WBOC TV 16 Delmarva's News Leader;  CEO Level Sponsors Greater Ocean City, Maryland Chamber of Commerce, Ørsted Global Play Network and US TASC; Chairman Level Sponsors Avery Hall Insurance Group, Chaney Enterprises, The Voice Radio Network, Pohanka of Salisbury Automotive, Effectv, TidalHealth, SBTS Group and Perdue Farms; Board Level Sponsors Allen & Shariff Corporation, ABC Chesapeake Shores, Baxter Enterprises, BBSI Salisbury, Chesapeake Utilities Coastal Association of REALTORS, Delmarva Power (Delmarva Connect), Delmarva Veteran Builders, Fairchild Properties, LLC, Cambridge Marketplace, LLC, Gillis Gilkerson Greg Reddell-State Farm, Veronica James – ERA Martin Associates, Salisbury MD, Maryland Small Business Development Center at Salisbury University, Mountaire Farms, Patriot, PKS & Company, P.A., Shore Transit, Salisbury Wicomico Economic Development, SVN – Miller Commercial Real Estate, Tri-County Council for the Lower Eastern Shore of Maryland, Worcester County Economic Development; and  Supporter Level Sponsors Bancroft Construction, Bank of Delmarva, Davis, Bowen & Friedel, Inc., Davis Strategic Development, Hebron Savings Bank, Minuteman Press Salisbury, NAI Coastal, Provident State Bank, and W. R. McCain & Associates.
The 34th Annual Southern Delmarva Economic Forecast is scheduled for December of 2021. Chamber members and the public will be invited.