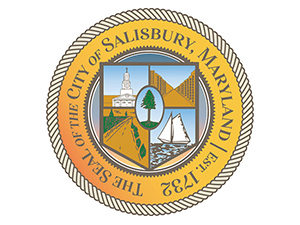 Salisbury, MD – The City of Salisbury has narrowed the search for the next Police Chief to four highly qualified candidates.
The City engaged Strategic Government Resources (SGR) to assist in conducting the extensive national search that resulted in an impressive candidate pool. SGR is an executive recruitment firm based in Texas, specializing in recruiting, assessing, and developing innovative, collaborative, and authentic leaders for local governments. SGR's proprietary recruitment and vetting process produced an incredibly strong field of candidates, with 29 applications from candidates in 15 states. The city also established a Citizen Police Chief Search Committee who reviewed the background and application materials of the candidates with SGR and ultimately selected the four finalists.
The finalists:
David Meienschein has served in numerous capacities in the Salisbury Police Department. He began his public safety career in 1987 as a Police Officer and K-9 Handler. During his tenure he has been promoted through the ranks and has been serving as Acting Chief of Police since June 2023. He has held many administrative and operational positions within the police department. In these roles he has focused on Community Oriented Policing, crime reduction and police-community relations. David has emphasized the importance of staffing and resource allocation while addressing community issues during his career. He was a US Air Force active-duty Senior Master Sergeant from 1983 to 1987 and served in the Air Force Reserve until 2003.
David holds a bachelor's degree in Human Resource Management from Wilmington University in Georgetown, Delaware, and is a member of the 2005 Graduate Class of the FBI National Academy in Quantico, Virginia.
Howard Drewer is currently the Operations Commander for the Salisbury Police Department and has served the Police Department for 25 years. His responsibilities include supervising four Patrol shifts, developing crime reduction strategies, coordinating with private, civic, and governmental organizations to promote safety, and managing critical incidents. He also served 25 years in the US Army Reserves, retiring as First Sergeant. During his military career he supervised a Company of 256 personnel during deployment in Iraq. He focused on tactical analysis and strategies, and trained and mentored soldiers throughout his military career. Howard earned his bachelor's degree in Organizational Dynamics from, and his master's degree in Business Management, both from Wilmington University in Georgetown, Delaware.
William Riley is currently the Security Supervisor for the Virginia Institute of Marine Science of William & Mary and has served there since 2022. Before assuming his current position, he served in local government public safety as Chief of Police for the Inkster, Michigan Police Department for seven years, and Chief of the Selma, Alabama, Police Department, also for seven years. In both roles, William modernized department structures and established and reestablished divisions and units that would focus on specific and emerging community needs. He began his local law enforcement career in Newport News, Virginia, moving up the ranks from Patrol Officer to Detective, Sergeant, Lieutenant and retired from the agency as Captain of the Criminal Investigations Unit.
William holds a bachelor's degree in Political Science from Saint Paul's University in Lawrenceville Virginia and has earned an Executive Police Management certification from the university Partnership for Continuing Education, as well as completing the Senior Management Institute for Police, Police Executive Management Forum, 36th Session at Boston University.
Matthew Davis is the First Deputy Director in the Illinois State Police Office of the Director and has served in this role since 2019, accountable for more than 1,800 sworn officers and 950 civilian employees delivering public safety services to Illinois communities. Prior to this, he spent almost two decades in the Department's Division of Forensic Services as Assistant Deputy Director, Commander, Chief of Staff, Field Supervisor Crime Scene Investigator. Additionally, Matthew has served as Assistant Deputy Director in the Division of Administration and in the Division of Operation for the Illinois State Police. In 2021, he was a member of the Illinois Task Force on Constitutional Rights and Remedies.
Matthew earned a Juris Doctorate from Saint Louis University School of Law and is a member of the Illinois Bar Association. He holds a master's degree in Biological Anthropology from Northern Illinois University in Dekalb and a bachelor's degree in Anthropology and History from the University of Delaware in Newark, Delaware.
The City appointed a Citizen Police Chief Search Committee, reviewed the applicants, and ultimately selected these four Finalists, with the upcoming interview process taking place Sept. 14-15 in Salisbury. The onsite interview process will involve community tours, a panel interview with the Citizen Police Chief Search Committee, both a public and a Departmental Meet & Greet, and a final interview with the Mayor and City Administration panel.
"We look forward to getting to know our four outstanding Police Chief finalists and learning more about how their experience will assist our community in ensuring Salisbury continues to enjoy its reputation as a progressive Police Department and as a safe city in Maryland's eastern shore through our commitment to community policing," said Mayor Jack Heath. "I encourage our residents to welcome the candidates to Salisbury and get to know each of them in greater detail at the public Meet & Greet event scheduled for Thursday, September 14 from 6:30 to 8:30 p.m. at the Salisbury Fire Department, Station 16 located at 325 Cypress Street."