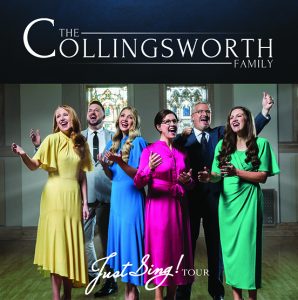 SALISBURY, MD – Tickets are now on sale for The Collingsworth Family's upcoming show at the Wicomico Civic Center. The group will come to Salisbury for the FALL '22 JUST SING! Tour on Wednesday, Sept. 7, at 7 p.m.
The Collingsworth Family is an all-concert ministry that includes parents Phil and Kim and their four adult children. Shows include family worship and praise and offer excitement, spiritual anointing, family emphasis and musical excellence.
All ticket sales from this event will go to support the ministry of Hope And Life Outreach, or HALO, as it serves homeless men, women, boys and girls.
"HALO is celebrating 15 years of service to this community," said Celeste Savage, executive director of HALO. "We would so love for you to come out and join us; be a part of this amazing, uplifting praise and worship evening; and help us continue to serve the homeless for years to come."
Tickets are on sale at WicomicoCivicCenter.org and at the Wicomico Civic Center box office, open Monday-Friday, 9 a.m.-6 p.m.