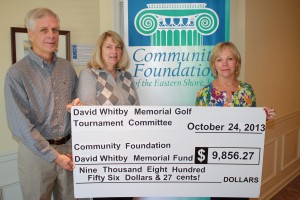 The David Whitby Memorial Golf Tournament Committee raised $9,856.27 to support the David Whitby Memorial Fund, a permanent charitable fund at the Community Foundation of the Eastern Shore.  Proceeds from the annual Prostate Cancer Golf Tournament benefit the Richard Henson Cancer Center at the Peninsula Regional Medical Center.  The David Whitby Memorial Fund is a permanently endowed fund that will provide support for diagnosis and treatment of prostate cancer on the Lower Eastern Shore in perpetuity
Pictured (l to r) are: Gary and Janet Wright, Fund Representatives and BJ Summers, Director, Development and Philanthropic Services.
About the Community Foundation of the Eastern Shore:  Since 1984, the Community Foundation of the Eastern Shore (CFES) has been serving the needs of Wicomico, Worcester and Somerset Counties granting more than $30 million.  Through the generosity and vision of our donors, CFES awarded grants totaling more than $5.4 million in fiscal year 2013.  CFES brings together donors and builds on community assets through scholarship grants, advocacy and leadership development.  By focusing on people, organizations, neighborhoods and nonprofit capacity building, the Foundation addresses community needs in the areas of health, education, arts and culture, community development and the environment.  For more information about the Community Foundation, please visit www.cfes.org for more information or call 410-742-9911.