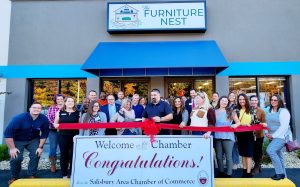 The Salisbury Area Chamber of Commerce joined Michelle Mayer, owner of The Furniture Nest, on Thursday, November 3, 2022 in the official ribbon cutting unveiling this unique boutique store that delivers quality of sleep.
Michelle, who has been in the business for almost 5 years, welcomed our guests assuring them that a good night sleep is one of the best ways to maintain and improve our health and choosing the right mattress is a huge factor in our ability to sleep well.  "I have been in this business for almost 5 years and have always carried just bedding. I am thrilled to share with you all that I have just signed with Ashley Furniture and besides their mattresses I will be bringing in other products over the next few months."  The new website should be ready by next week, just in time to get a life changing holiday gift for you or your loved one.
We all know that a new mattress can be a sizable investment, but now you can shop local at The Furniture Nest and be confident that the staff will help you in selecting the best mattress your money can buy. Select from the best… Serta, Sealy and soon Ashley.  Zero percent financing is available.
Guest enjoyed a flavorful charcuterie board and a variety of beverages.  Lucky members Cathy Stafford and James Russ won sets of memory foam and 3-in-1 Hybrid pillows, and Liz Buckley won a basket from The Rusted Mermaid.  
For more information visit www.thefurniture-nest.com, call 443-366-4409, or stop by 620 W. Naylor Mill Road, Salisbury.