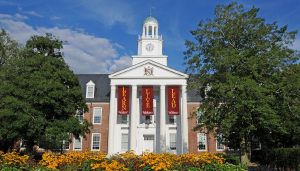 SALISBURY, MD—Salisbury University commemorates Holocaust Memorial Day (Yom HaShoah) with the presentation "The Holocaust in History and Memory" 7 p.m. Wednesday, May 1, in the Patricia R. Guerrieri Academic Commons Assembly Hall.
Dr. Maarten Pereboom, dean of SU's Charles R. and Martha N. Fulton School of Liberal Arts, and Rabbi Arnold Bienstock discuss the persecution and genocide of the European Jews and other groups during the Nazi era, the legacy of these crimes against humanity, and the enduring challenges of racism and discrimination. Holocaust survivor Marty Weiss also shares his reflections.
The presentation also includes performances by tenor John Wesley Wright, SU senior music major Jeffrey Todd and harpist Kara Dahl Russell.
Related memorial activities include a name reading of Holocaust victims from 11 a.m.-2 p.m. Thursday, May 2, at the Fulton Hall Fountain and a planned Holocaust education exhibit in Conway Hall.
Sponsored by the Fulton Public Humanities Program and Fulton School Dean's Office, admission is free and the public is invited. For more information call 410-543-6245 or visit the SU website at www.salisbury.edu.