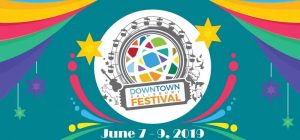 The Downtown Salisbury Festival is a FREE, family-friendly festival held along the Salisbury Riverwalk – with live music, carnival rides, games, food and drink, local vendors and more.
Live music includes the Paul Reed Smith Band on Friday night, The Uprizing Band on Saturday and Chris English Blues band on Sunday, among the 12 live acts scheduled to take the stage.
Carnival ride tickets can be purchased during the festival at $1.25 per ticket, $25 for 25 tickets, or $45 for 50 tickets. Unlimited ride wristbands, good for Sunday only, can be purchased for $18.
For a complete Main Stage Line-Up and more information on the Downtown Salisbury Festival, go to: www.salisburyartsdistrict.com or call 410-774-6145.
The Downtown Salisbury Festival is presented by Toyota and Pohanka of Salisbury Automotive and produced by SBY Arts & Entertainment District and the Salisbury Area Chamber of Commerce.