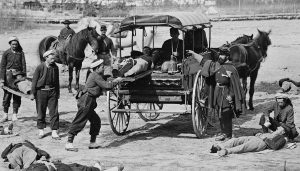 SALISBURY, MD—Presenters from the National Museum of Civil War Medicine discuss "The Origins of Modern Emergency Medicine" 1 p.m. Monday, April 8, in the Wicomico Room of Salisbury University's Guerrieri Student Union.
David Price, executive director of the Frederick, MD-based museum; Jake Wynn, director of interpretation; and John Lustrea, education specialist, share how the bloodiest conflict on U.S. soil — the Civil War — helped create many of the foundational systems still used in healthcare today, thanks in large part to Major Jonathan Letterman.
Facing an estimated national death toll of 700,000, along with millions of cases of wounds and disease, Letterman worked with policymakers and practitioners at that time to establish concepts including triage and tiered levels of care, saving countless lives in the process.
Sponsored by SU's School of Nursing and College of Health and Human Services, admission is free and the public is invited. For more information call 410-543-6420, or visit the SU website at www.salisbury.edu or the National Museum of Civil War Medicine website at http://www.civilwarmed.org/event/salisbury.