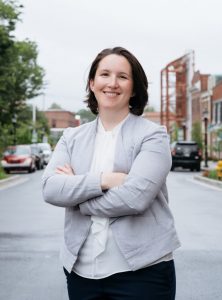 A native of Long Island, N.Y., Glanz got to know the Eastern Shore when her parents bought a second home in Cambridge and visited there in the summer months. During that time, she visited Salisbury University for the first time.
Glanz first came to the mayor's office as an intern under then-Mayor Jim Ireton during her sophomore year at SU where she was majoring in business management and political science. She later earned a master's degree in Conflict Analysis and Dispute Resolution at the university.
After graduation, she worked for AFSME — the American Federation of State, County and Municipal Employees — where she advocated for workers' rights. She left in 2015 to become assistant city administrator under Ireton and then-City Administrator Tom Stevenson.
Since her appointment to the position in February 2017, Glanz has been instrumental in the reorganization of city government, and was a driving force in the successful campaign to host the National Folk Festival.
As the mayor's chief administrative officer, Glanz oversees all functions of city government, and manages communications and messaging. Under her are 12 department heads and 435 city employees.
Annually, The Rotary Club of Wicomico County contributes over $50,000 back into our community through the support of agencies and causes including: Boy Scouts, Girl Scouts, scholarships for local high school and college students, The Christian Shelter, RYLA, Easter Seals Camp Fairlee, Polio Eradication (Global), Fruitland Community Center, HALO, Wicomico County Library, the construction of wheel chair ramps and much more.
The Rotary Club of Wicomico County meets every Tuesday at noon in the Wicomico Youth and Civic Center at 500 Glen Avenue in Salisbury. To learn more about the Rotary Club of Wicomico County or to obtain membership information, please contact Gary Stiegler, Membership Chair at Gnstiegler@comcast.net or visit the club's website at www.wicomicorotary.com.