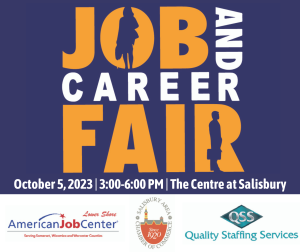 Salisbury, MD – The Salisbury Area Chamber of Commerce and the Lower Shore American Job Center are proud to announce the return of the annual regional Job and Career Fair at the Centre at Salisbury.
This year's fair, presented by Quality Staffing Services, will be held on Thursday, October 5, 2023, from 3:00 PM – 6:00 PM.
The regional Job and Career Fair is FREE for attendees and open to all businesses in the Lower Eastern Shore region. Any business seeking employees in the Lower Shore region is encouraged to participate, regardless of company size.
Over 65 employers participate in the Job & Career Fair, and approximately 2000 job seekers attend the event.
The Job & Career Fair is an excellent opportunity for EMPLOYERS to meet face-to-face with prospective employees. JOB SEEKERS will have direct access to hundreds of job openings in various industries.  
For businesses seeking employees, individual booth spaces are available for $150 and the deadline to register is September 29, 2023.
Premium sponsorship packages are also available for $500 and include the highest level of exposure to all attendees with a premium booth location, company logo on signage, print materials, social media posts, press releases, SBYbiz and Chamber websites.
Job seekers are encouraged to come dressed for success and bring multiple copies of their resumé for distribution to prospective employers. Free resumé assistance will be available at the event.
The 2023 Job & Career Fair is sponsored by Chesapeake Health Care, Hudson Behavioral Health, Landmark Insurance, The Voice Radio Network, TidalHealth, Trinity Sterile, Wicomico County Public Schools, and 47ABC.
For more information or to register, visit http://www.salisburyarea.com/chamber-events/job-fair/ or contact Cindy Morgan Chambers at 410-749-0144 x 102 or amorgan@salisburyarea.com.