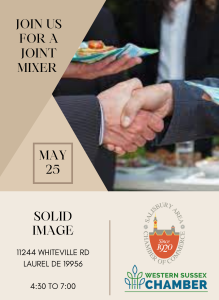 The Western Sussex and the Salisbury Area Chambers of Commerce are looking to collaborate in ways that will provide greater accessibility and networking potential for our respective members. Business owners understand that newfound collaborations are key to local business prosperity.
The SACC and Western Sussex Chamber members are invited to attend a joint mixer event, to be held on Wednesday, May 25th from 4:30 to 7:00 PM at Solid Image, located at 11244 Whitesville Road, Selbyville, DE.
This is an exclusive opportunity to make new connections, enjoy refreshments and hear what's happening with our neighboring chamber of commerce.
The SACC members may register at www.salisburyarea.com. Western Sussex Chamber members may register by email at admin@westernsussexcoc.com.