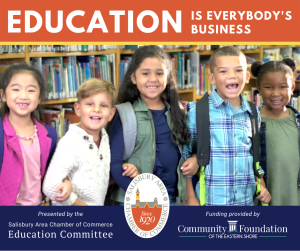 The Salisbury Area Chamber of Commerce – Education Committee Network is pleased to announce the inaugural PAC-14 TV show entitled "Education Is Everybody's Business."
This bi-monthly 30-minute TV show is designed to be a source of community awareness and knowledge of topics that impact education and workforce development here in our Lower Eastern Shore communities.
The September broadcast focuses on the critical education topic – "We Have a Mental Health Crisis."
Hosted by Dr. Ladd Colston of Sustainable-Visions, this first show features three (3) local professionals who work directly with patients, families, and students regarding mental health issues; Dr. Katherine Layton, a pediatrician at TidalHealth Peninsula Hospital here in Salisbury and The Children's National Hospital in Washington, DC; Dr. Samantha Scott, Psychologist and Clinical Director of The Child and Family Center in Salisbury and Easton; and Ms. Tiffany Tatem, Licensed Social Work supervisor in the Wicomico County Public Schools.
This program is sponsored by the Community Foundation of the Eastern Shore and will be aired with student-centered informative educational topics in September, November, January, March, and May.
The public is encouraged to tune in or access the YouTube PAC-14 broadcast at https://youtu.be/ftmuMTFSYGk.