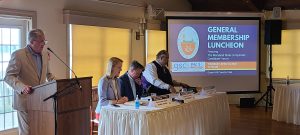 Candidates vying to be Maryland's next State Comptroller gathered in Quantico Maryland on April 14th at a forum presented by the Salisbury Area Chamber of Commerce, The Greater Salisbury Committee, and PACE at Salisbury University.
Comptroller candidates Bowie Mayor Tim Adams, Harford County Executive Barry Glassman, and Maryland State Delegate Brooke Lierman answered questions from Bill Chambers, Salisbury Area Chamber of Commerce President/CEO, and Mike Dunn, Greater Salisbury Committee President/CEO.
The forum was moderated by 47 ABC news correspondent Hannah Cechini.
When asked about the state's fiscal health, Delegate Lierman commented, "The General Assembly and Governor Hogan left $1.6 billion in Maryland's rainy-day fund, our state fiscal health is very good."
Harford County Executive Glassman cautioned, "Inflation and the possibility of a fall recession should be closely monitored. The Comptroller makes recommendations to the General Assembly on what the state's revenue estimates will be. That drives fiscal decisions when looking at the state's budget."
Bowie Mayor Tim Adams, a self-made business entrepreneur, added, "We shouldn't take this current rosy state picture for granted. To do that would be irresponsible."
All three candidates spoke of their qualifications and experience to be Maryland's next elected Comptroller. County Executive Glassman noted, "The Comptroller is much more than the state tax collector. As one of the three members of the State Board of Public Works, the Comptroller votes on awards of contracts and state projects, which are key to moving Maryland in the right direction."
Mayor Adams added, "If I am elected, I will be that watchdog looking over the finances of our state." Delegate Lierman touted her experience as a State Legislator, "I know the priorities of our state having served in the General Assembly, I am keenly aware of the importance of responsible fiscal oversight."
The SACC, GSC, and PACE at Salisbury University are partnering in the coming weeks on a variety of candidate forums.