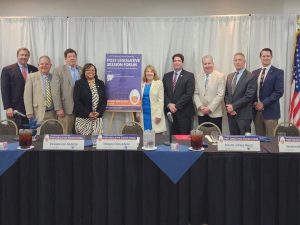 On Thursday, April 20, 2023, the Salisbury Area Chamber of Commerce welcomed the Lower Shore Delegation members at the 2023 Maryland General Assembly Post Legislative Session Forum, presented by the Tri-County Council for the Lower Eastern Shore of Maryland.
More than one-hundred business and organizational leaders gathered at the Wicomico Civic Center. They heard the legislators address several critical topics related to legislation presented during the 2023 Maryland General Assembly Session.
The SACC Chair-Elect and Community Relations Manager of Mountaire Farms, Zach Evans, moderated the event.
The legislators discussed Maryland's competitiveness, considering the revelation by the Board of Estimates that state revenue projections were adjusted to reflect a $500 million shortfall.
The legislation introduced and sponsored by Delegate Wayne Hartman, which would have lowered the state corporate income tax rate, failed again in Annapolis.
Senator Johnny Mautz commented, "Businesses on the shore are minutes, in some cases, from two states with much more business-friendly environments. What decisions will those businesses make if Maryland doesn't stay competitive?"
The Family Medical Leave legislation was also a hot topic. Legislation introduced this session was intended to "repair" the technical deficiencies passed in last year's bill.
As Delegate Chris Adams noted, "Our friends in New York state got it wrong, their leave fund ran short, and contributions from employers and employees increased three times to make up the shortfall."
Speaker Pro-Tem and Delegate Sheree Sample Hughes stated, "Family medical leave is a work in progress. Additional legislation will be introduced next session to get this done right for all parties."
Delegate Charles Otto said the business community came to the table this session on several bad bills, including Family Medical Leave. "The State Chamber and others were at the table to push back on elements of this and other legislation that would harm business interests."
Senator Mary Beth Carozza lauded the removal of the CPI that was to have been tied to the accelerated Minimum Wage Bill. It was one of Governor Moore's legislative priorities this session.
"That inflation indexing to the minimum wage and the defeat of the repeal of tipped worker exemption were positives for our businesses," stated Carozza.
The additional education funding for Maryland's Blueprint (Kirwan) was a part of the legislator's discussions. Delegate Adams expressed his concern about the costs to local jurisdictions, "Adding free universal Pre-K is a broad expansion of the Blueprint and will be very expensive."
Senator Carozza added, "The blueprint is already implemented. We need the business community to stay engaged."
Delegate Sample Hughes summed up some of her priorities as the Forum concluded, "Protecting our waterman, farmers, forest industry, and our way of life here on the shore will continue to be my focus."