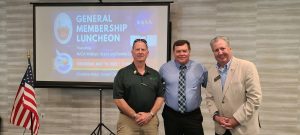 On May 19th, 2022, the SACC partnered with the Greater Ocean City Chamber of Commerce in welcoming Jeff Reddish from NASA Wallops as the May GML featured speaker.
The May Chamber luncheon was held at the new Cambria Hotel in Ocean City Maryland. Jeff Reddish is the Range Chief and Program Manager for the Antares space station resupply missions that launch from the NASA flight facility in Wallops Island Virginia.
Jeff touched on current happenings at NASA Wallops as well as the new addition to the base, Rocket Lab.
"The Antares program resupply missions to the International Space Station will continue with a September launch scheduled'" Jeff commented.  "The entire NASA Wallops team is activated for these critical missions and we are hopeful the frequency of these launches will increase as we move forward."
An audience member asked about the reopening of the NASA Visitor Center, to which Jeff replied, "We expect visitor center operations to return to normal this summer."
Jeff then focused on the new the construction of a new headquarters for Rocket Lab.
"Rocket Lab will build a production complex and launchpad for their new Neutron rocket. The launchpad is slated to be built on the southern end of the island and the 250,000 square foot production complex will be constructed on a 28 acres site adjacent to the Wallops Flight Facility. Rocket Lab will create new, high-tech jobs, which are vital for the region."
"A robust and competitive low-earth orbit economy is vital to continue progress in space. The United States is committed to encouraging and facilitating the growth of the U.S. commercial space sector that supports America's needs."
The eighty attendees enjoyed networking prior to lunch service and a delicious lunch prepared by the Cambria Chef and their banquet team.
For information on upcoming General Membership Luncheons and other SACC events, visit www.salisburyarea.com.