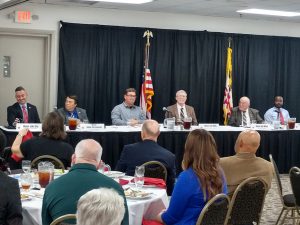 The SACC held its October General Membership Luncheon on Thursday, October 21, 2021, at the Wicomico Civic Center, featuring the Annual Delmarva Mayoral Forum.
On this year's Mayoral panel were Mayor Jake Day of Salisbury, Maryland; Mayor Robin Christianson of Dover, Delaware; Mayor Stan Mills of Rehoboth Beach Delaware; Mayor Bob Willey of Easton Maryland; Mayor Barry Dize of Crisfield, Maryland; and Commissioner President Lionel Frederick of Princess Anne Maryland. The panel was moderated by Greg Reddell, State Farm Insurance.
The seventy attendees were treated to updates from each Mayor on a variety of critical topics.
On the workforce shortage crisis plaguing the nation and our region, Crisfield Mayor Dize commented "Our workforce will not fully recover until the government stops incentivizing people to stay home."
Residential evictions were also a hot topic and Delmarva is not immune from what Dover Mayor Christianson observed, "The next coming crisis is home eviction. In the past week in Dover, more than five-hundred-eighty-one evictions notices were issued. These folks have nowhere to go, it will surely be a crisis," the Dover Mayor lamented.
The pandemic's economic impacts and workforce housing were also discussed by the mayors. Salisbury Mayor Jake Day spoke to the program the City create to help address this issue, "Salisbury will issue a ninety-day moratorium on building and development fees for qualified workforce housing, new or renovated in the City."
Mayor Day and the City Council are confident this incentive will jump-start new housing inventory.
Rehoboth Beach Mayor Stan Mills got the audience chuckling when he commented, "Rehoboth Beach has no affordable housing, just recently a sub-standard 50' by 85' foot lot, away from the Ocean with a teardown home will sell for more than one million dollars." He added, "That new owner will then build a brand-new home on that small parcel."  
Mills went on to say, "We do have affordable housing issues when it comes to the town's hospitality workers who are not able to find housing within the town limits."
When the Mayors were asked if there was a silver lining to the pandemic and the economic fallout, they stated they were grateful for the federal and state dollars which helped them recover.
Easton Mayor Bob Willey said, "Those federal dollars were much appreciated, Easton received about eight million in Federal CARES act dollars. Willey smiled and said, "My town roads are being paved today with that money, I don't know whether I should go back home today or just head to the Ocean."
Lionel Frederick from Princess Anne added, "Our Town added six new downtown businesses during COVID and the residents and businesses are grateful for the state and federal support given."
This annual Delmarva Mayoral Forum will be back in October 2022, Chamber President/CEO Bill Chambers stated it will expand to more Mayors from across Delmarva.
Visit www.salisburyarea.com for updates and information on all upcoming SACC events.